Your Domestic Drone News: Boeing Tested a Drone Capable of Staying in Flight For Four Days and the EPA is Using Drones to Observe Cattle (Hopefully)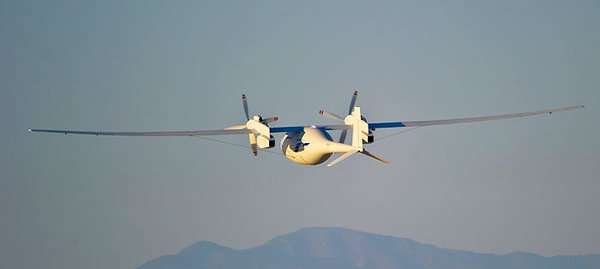 The Los Angeles Times notes that Boeing Co. recently tested a new kind of hydrogen-propelled drone capable of staying in flight for four days. Currently most drones can stay aloft for about 30 hours, which is obviously already superior to manned aircraft. The Phantom Eye circled the Mohave Desert for 28 minutes on June 1, but then had a problem with the landing gear and broke on landing.
With a 150-foot wingspan and an egg-shaped fuselage, the drone was built at Boeing's Phantom Works complex in St. Louis with engineering support from its facilities in Huntington Beach. The drone is designed to spy over vast areas at an altitude of up to 65,000 feet.
"This day ushers in a new era of persistent intelligence, surveillance and reconnaissance where an unmanned aircraft will remain on station for days at a time providing critical information and services," said Phantom Works President Darryl Davis in a statement. "This flight puts Boeing on a path to accomplish another aerospace first — the capability of four days of un-refueled, autonomous flight."
Unlike existing combat drones that are controlled remotely by a human pilot, the Phantom Eye could carry out a mission controlled almost entirely by a computer. A human pilot sitting miles away can design a flight path and sends it on its way, and a computer program guides it to the target and back.
The flight was powered by liquid hydrogen. Boeing says the fuel is a powerful alternative for vehicles that require endurance, and the combustion leaves only water in the atmosphere.
It took Boeing about four years to get the Phantom Eye to the runway, without the promise of a payout. Boeing does not have a contract on the drone; it is developing the craft at its own expense
There's obviously nothing inherently scary about this sort of thing — technology, freedom, etc. It would be nice if this just meant a cool new piece of technology that humans are having fun with. But considering the still-shaky status of drones and safety and not crashing, not to mention the domestic repercussions for technology that can let this baby hang out in the air for four days…It's a bit unnerving. Until we all have our drones and nobody has any privacy, of course.
Meanwhile, reported with great alarm on infowars, but originally noted on the more credible Fox News, there are reports that the Environmental Protection Agency (EPA) is bothering Nebraskans with their drones:
A bipartisan group of Capitol Hill lawmakers is pressing EPA Director Lisa Jackson to answer questions about privacy issues and other concerns after the agency used aerial surveillance to monitor livestock operations over their home state of Nebraska.
"Farmers and ranchers in Nebraska pride themselves in the stewardship of our state's natural resources. As you might imagine, this practice has resulted in privacy concerns among our constituents and raises several questions," says the letter signed by Republican Reps. Adrian Smith, Jeff Fortenberry and Lee Terry, as well as Democratic Sen. Ben Nelson and GOP Sen. Mike Johanns.
Smith, co-chairman of the Modern Agriculture Caucus and the Congressional Rural Caucus, said Tuesday the operations in many cases are near homes so "landowners deserve legitimate justification given the sensitivity of the information gathered by the flyovers."
The letter asks nearly two-dozen questions including why the inspections are being conducted, how many flights have occurred and whether they have resulted in any enforcement activities.
"Nebraskans are rightfully skeptical of an agency which continues to unilaterally insert itself into the affairs of rural America," Smith added.
Check out Reason's other drone tales and let's all hope for the best.