TONIGHT!! Attention San Francisco Bay-Area Reasonoids! Doherty talking Ron Paul's rEVOLution at Book Passage in Corte Madera, Monday June 4 7 p.m.
You've (probably) read me talking about Ron Paul here–now see and hear me do it in person at the wonderful store Book Passage in Corte Madera and tell me what you really think.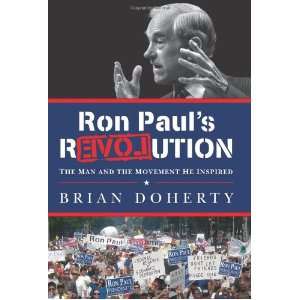 It's free and open to all, even Hit and Run commenters.
These things tend to be more about freewheeling audience interaction and less about me just reading from the book to you, so come prepared with your own thoughts about all things Ron Paul.
It's great if you buy a book, but not an obligation. Freedom is popular, as Ron Paul says.
WHAT: I talk about and sign copies of Ron Paul's Revolution: The Man and the Movement He Inspired.
WHERE: Book Passage, 51 Tamal Vista Blvd, Corte Madera, California 94925. (That's a bit north of the city of San Francisco across the Golden Gate Bridge)
WHEN: 7 p.m. on Monday June 4
Details from Book Passage's website.
ALSO: Appearing today at 11 a.m. on KGO 810-AM out of San Francisco with Ronn Owens. Listen live.
Cross-posted at the dedicated blog/site for Ron Paul's Revolution.