Mubarak Found Guilty, Sentenced to Life in Prison; No Cops Convicted In Last Fifteen Months For Any of Almost Thousand Protesters Killed in Egypt, CNN Guest Says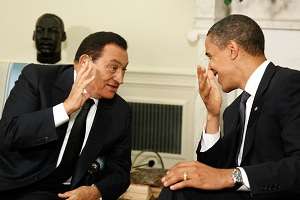 The former Egyptian President Hosni Mubarak was found guilty and sentenced to life in prison for ordering complicity in the killing of protesters during last year's demonstrations at Tahrir Square. He did not receive a death sentence because, the judges noted, there wasn't "clear evidence" that Mubarak had directly ordered any killings himself. His former interior minister, Habib al-Adly, was found guilty on the same charges and received the same life sentence. His aides were found not guilty on an array of charges, and Gamal's sons and a business tycoon were all found not guilty.
Mubarak was set to become Egypt's third life-long President until being swept away in demonstrations during the Arab Spring that saw the military establishment propping up the aging Mubarak assume power directly. Mubarak had succeeded Anwar Sadat, who was assassinated after making peace with Israel. Sadat succeeded Gamal Nasser when he died in office.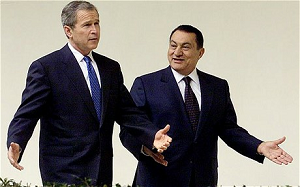 The current election, in its run-off round, pits former Mubarak prime minister Ahmed Shafiq (blamed by some Egyptians for killings under the Mubarak regime) and Mohammed Morsi of the Muslim Brotherhood against each other. These are the first free presidential elections in Egypt's history.
Though there were no guilty verdicts on any corruption charges, the adage that foreign aid is taking money from poor people in rich countries to give to rich people in poor countries applies to the very wealthy Mubarak family.
Reason on the Arab Spring
UPDATE: Fox News and CNN start their weekend programming at 6am. Fox News lasted 3 minutes before turning to Obama and Congress, while CNN lasted 12 before moving on to the Trayvon Martin case.
In that time, though, on CNN, Mona Eltahawy explained Egyptians want to see the whole judiciary cleansed, noting that no cops have been convicted in the last 15 months for any of the nearly 1,000 protesters killed in that time (though a few have been in absentia). The problems go a lot deeper than just Mubarak, and you can expect to see Tahrir square fill up over the afternoon.