Reason Writers Around the Internet: Brian Doherty's This is Burning Man Declared Number 4 "Book of the New Edge" by Huffington Post
Jonathan Talet Phillips, author of The Electric Jesus and co-founder of Evolver.net names the "Top 10 Books of the New Edge" at Huffington Post and names my This is Burning Man as number 4.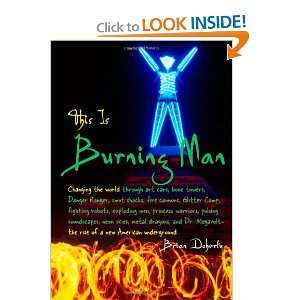 "Books of the New Edge," Phillips writes, are those:  
Featuring a brutally honest look at the shadow aspects of the Self, and society at large, these books — while often focused on healing — are not fluffy New Age "Celestine Prophecy" reads nor "The 7 Laws of Spiritual Materialism." They are harder to define, hosting a multidimensional mix of spiritual awakening, new media activism, visionary art, punk attitude, permaculture principles, Burning Man aesthetic and Occupy ideologies.

As if exploring some quantum physics conundrum, they fuse the world of observer and observed, where the researcher flies third-eye-first into the mystical fields they are investigating.
And This is Burning Man, Phillips writes:
gives Burning Man aficionados exactly what they are looking for – the myth behind America's most creatively extravagant festival. Tracing the event from its humble origins with a few dozen onlookers at San Francisco's Baker Beach to its five-square-mile explosion of radical self-expression in the Nevada desert. One early scene (before the festival instigated a number of guidelines) has co-founder John Law racing his rental car across the desert flats, "flying on mushrooms," drinking wine and having sex with his girlfriend while shooting guns out the window at teddy-bear targets. Hedonistic, yes, but also the stuff of legends.