Freedom Communications Sells Florida, North Carolina Properties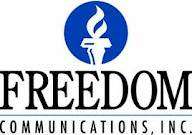 The dismantling of libertarian media chain Freedom Communications Inc. continues today with the announcement that all of the company's Florida and North Carolina newspapers have been sold to Halifax Media Group.
Halifax, which owns 16 newspapers primarily in the Southeast, says it will offer employment to all existing workers at the newspapers as they transfer ownership. The deal is expected to close in 30 days.
We previously reported on the sale of Freedom's Midwest and Texas properties in May. Once these sales are complete, the remains of Freedom will include only The Orange County Register in California, The Gazette in Colorado Springs, four smaller daily newspapers in California, one smaller daily in Arizona, and the ancillary products they produce.