Men in Black III and Moonrise Kingdom
Josh Brolin reinvigorates the sci-fi series, Wes Anderson stays true to form.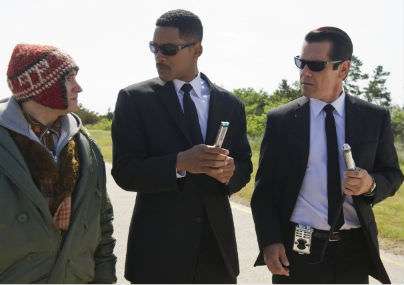 Men in Black III reenlists the talents of Will Smith and Tommy Lee Jones, of course—Smith with his urban sizzle, Jones with his craggy codger sorrow—and it's good to have them back, togged out in their black suits and shades and riding herd over America's vast alien-creature community. But what really energizes this third installment of the franchise—lifting it into the orbit of the 1997 Men in Black, and vaporizing whatever memories might remain of that film's piddling 2002 sequel—are a pair of smart new additions to the MIB canon. One of these is time travel—always good for an entertaining brain-stretch; the other, quite wonderfully, is Josh Brolin, who plays a younger incarnation of Jones, and seems to have inhaled the older actor's grumpy essence and to be exuding it through his pores. It's a flawless comic performance.
The movie opens with a terrific action sequence—a jailbreak at a maximum-security prison on the moon, where a fearsome "Boglodite" named Boris the Animal (Jemaine Clement, of The Flight of the Conchords) is busting out after 40 years in solitary. Boris was apprehended by the MIB—by Agent K, in fact—during the 1969 moon-rocket launch at Cape Canaveral. In the course of being collared, he lost most of one arm, and he's been plotting payback ever since. Free at last, he returns to Earth to locate a little-known time portal (in a Manhattan electronics shop run by the superbly droll Michael Chernus) and jump back to 1969 to terminate the troublesome K. Agent J, with the help of a dreamy-eyed alien named Griffin (Michael Stuhlbarg, of Boardwalk Empire), who perceives time in every possible permutation, follows Boris into the past in an effort to thwart his plan.
Director Barry Sonnenfeld and screenwriter Etan Cohen have a lot of fun with the '60s here, repurposing Andy Warhol, making resonant use of Status Quo and the Velvet Underground, and playing the primitive technology and racial bigotry of the period for fresh laughs. Sonnenfeld, on his third tour of MIB duty, continues to inflect the abundant action with humor (especially in such unlikely settings as a bowling alley and a Chinese restaurant); and makeup ace Rick Baker has concocted another herd of memorable extraterrestrial oddities.
I suppose it would be possible to object to the movie's sweetly sentimental ending, or to find the final burst of action over-extended (it's still a bravura set piece). And it has to be said that the film's 3D conversion, although startlingly effective in a couple of shots, is largely pointless—the movie would play just as effectively without it. If these are lapses, though, they barely register. MIB III is a reinvigorated continuation of a unique sci-fi series, and a happy demonstration that it's still not played out.
Moonrise Kingdom
Wes Anderson's Moonrise Kingdom, which opened the Cannes Film Festival last week, is a movie whose pleasures are largely formal. Anderson acolytes will welcome another demonstration of his deadpan visual strategies—the locked-down shots facing off on split screens, the camera panning slowly past a series of rooms to introduce some of the characters—and his detached narrative style (the film's young-love story is precisely observed without ever stooping to sweep us up in its adolescent emotions). Those who find the director's work flawed by preciousness, however, may grow impatient well before the movie reaches the 90-minute mark.
The picture's supporting cast is heavy with stars, but the lead characters are played by two first-time screen actors. Kara Hayward is 12-year-old Suzy Bishop, resident with her family in a big house on New Penzance Island, off the coast of New England. Suzy is a rebel with a precocious fondness for heavy eye shadow and imported Françoise Hardy records. She's alienated from her parents (Bill Murray and Frances McDormand) and her little brothers, and she can't wait to grow up and be gone. "I want to have adventures and stuff," she says.
Suzy has been corresponding by letter—we're in 1965 here—with 12-year-old Sam Shakusky, a fellow outcast who's on the island with his scout troop, led by Scout Master Ward (Edward Norton). Sam and Suzy met a year earlier during a church performance of Benjamin Britten's musical play, Noye's Fludde. (Britten's music is a steady presence throughout the film.) Now, Sam, an orphan, has been disowned by his foster father, and soon a social-services martinet (Tilda Swinton) will be on her way to the island to reclaim him as a ward of the state. Fed up, Sam and Suzy decide to run away (well, as far away as you can run on an island). Setting out on an old Indian trail across New Penzance—Sam with his tent pack and coonskin hat, Suzy with her kitten and her fantasy books and battery-operated record player—they eventually come to an idyllic cove, where they make camp and declare their mutual love. They also gingerly approach the issue of physical intimacy. ("You can touch my chest," Suzy says. "I think they're gonna grow more.") For the most part, though, an air of innocent devotion prevails.
There are some arrestingly conceived shots—a scout tree house wobbling high atop a skinny, limbless tree; a cluster of costumed kids quietly playing flutes on a church staircase. And the dialogue (by Anderson and co-screenwriter Roman Coppola) is full of small surprises. ("I always wish I were an orphan," Suzy says. "Most of my favorite characters are.")
But some of the movie's secondary characters don't add up to much: Bruce Willis, as the island police chief, who's having a chaste affair with Suzy's mom, mopes and sighs and not much else; and Murray, as the abstractly unhappy dad, never comes into focus. The movie's tight design is impressive, but it works against the turbulent pre-teen feelings it seeks to convey. As well-made as the film is, its carefully arms-length approach to the story seems affected; and despite the best efforts of its young leads, it's never very affecting.
Kurt Loder is a writer living in New York. His third book, a collection of film reviews called The Good, the Bad and the Godawful, is now available. Follow him on Twitter at kurt_loder.