Make Your Own Damn Movie With Collaboration Filmmakers Challenge: LAST DAY TO REGISTER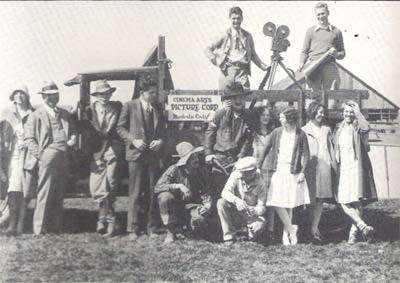 Write, shoot, cut and edit your own movie.
Get your work in front of Reason.com movie critic Kurt Loder, freedom-loving filmmaker Tim Minear and other luminaries in Hollywood.
Make the best movie and win $5,000.
The Collaboration Filmmaking Challenge starts May 24. Join up now!
Details:
The $5000 top prize is awarded to the team who creates the CFC's top film, as awarded by the jury panel at our festival screening at the beautiful Harmony Gold Theatre in Hollywood. We'll be bringing in some of Hollywood's brightest creative minds, such as Tim Minear (Firefly, Wonderfalls, The Inside) and Kurt Loder to watch and review our participants' submissions! The audience will also select its favorite film, whose creators will be awarded a $1500 prize!

The third prize is our $1500 Key Collaborator Award, an individual award given out to the person who contributes most to the efforts of his/her fellow filmmakers. That's right: you could win $1500 by helping someone else win the contest. What makes the CFC a truly unique experience is that it goes beyond simple competition. As the name suggests, this challenge is about bringing filmmakers together to transform one person's vision into a masterpiece through powerful creative partnerships.

So how does it work? At the beginning of the contest, the CFC will announce the filmmaking theme, which all filmmakers will express through their films. This year we've been inspired by the brilliant P.J. O'Rourke, but that's all we can tell you for now…

The contest runs for two weeks, with all participants working in randomly assigned teams of two: one filmmaker and one collaborator.

Who is this challenge for? It's for anyone! Industry pros, student filmmakers, amateur enthusiasts—all are welcome. The beauty of this experience is that you'll be working alongside many other people with a similar passion for filmmaking, and anyone could win.

What's the catch? One, you've got to submit an application and $35 registration fee. Two, you must be able to commit to BOTH weeks of filmmaking. Participants must complete both weeks of filmmaking to qualify.

You must register before the mandatory orientation on Thursday, May 24. The filmmaking dates are 5/30-6/12, and the screening will take place on Friday, June 22nd.

For more information about the Collaboration Filmmaker's Challenge, including a calendar and the complete rules, visit our website at:www.collaborationchallenge.com. Email any questions to info@collaborationchallenge.com!