California Public Pension Contributions Up 304% Over the Last Decade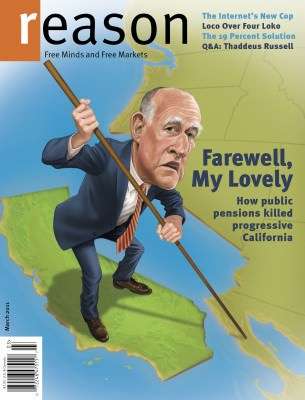 Want to know what a drag the California Public Employee Retirement System (CalPERS) is putting on the Golden State's perenially beleaguered budget? An Orange County Register editorial does the math:
In fiscal 2002-03, $545 million went to CalPERS pension payments, just after the Legislature started allowing pension spiking. The contribution rises to $2.2 billion for 2012-13, the fiscal year beginning July 1 – an increase of 304 percent the past decade.

The Great Recession especially has taken its toll. The percentage increases in payments have risen 13 percent in 2010-11 and 8.8 percent in 2011-12, and are projected to rise another 15 percent in 2012-13. This at a time the state economy has been stagnating, and other areas of the state budget have been cut. […]

If Gov. Brown's $91 billion budget is passed, the $2.2 billion CalPERS hit for 2012-13 would amount to a 2.4 percent of the general fund. That's money that won't go to schools, roads or taking care of the poor. Instead, it will go to CalPERS retirees, including the 9,111 people who pull down more than $100,000 year.
Whole thing here. Link via the indispensable Pension Tsunami, which also points to a revised $100,000 Club calculation of 12,199 recipients.
Read Reason on CalPERS, including two cover stories: Jon Entine's "The Next Catastrophe: Think Fannie Mae and Freddie Mac were a politicized financial disaster? Just wait until pension funds implode" (February 2009) and Tim Cavanaugh's "Farewell My Lovely: How public pensions killed progressive California."