LP Convention Delegates See Johnson As Anti-Barr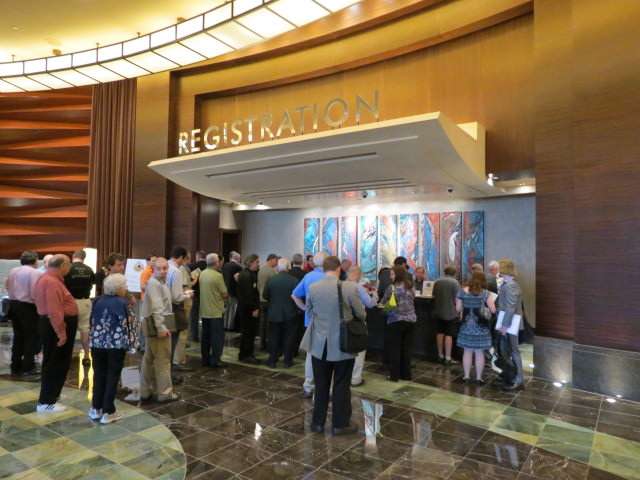 Las Vegas – The Libertarian National Committee has begun its 2012 convention in an atmosphere of ballot access battles and optimism about a presidential candidate who combines political strength and libertarian credibility.
Organizers expect a little more than 650 delegates out of a possible 1,042, which is apparently pretty good. Nearly every delegate I talked to expressed optimism about the candidacy of former New Mexico Governor Gary Johnson.
Free State Project and voter reform activist Stephen Cobb campaigned for Ron Paul during the New Hampshire primary but as a life time member of the Libertarian Party he said he was ready to cast his ballot for Johnson.
"This is my first time and I am really looking forward to vote for Gary Johnson," he said.
Elizabeth Miller, a native of Dallas and a newcomer to the LP, said she thinks Johnson is the best candidate the party has had in a long time.
"He is far and away the most exciting and potentially most powerful candidate they have ever had," said Miller, 43
Even one delegate who is running for the nomination himself, and changed his middle name to "Libertarian", is excited about Johnson.
Not everyone is bullish about a Johnson candidacy though.
Though their ideological histories are very different some see a similarity between Johnson and the party's 2008 nominee, Bob Barr: they are both former Republicans who sought refuge in the LP. Johnson, unlike Barr, has serious libertarian credentials and a history that satifies even the most skeptic Libertarians.
"Many of us are troubled by the similarity. Republican come lately, promises to be a good Libertarian, and then turns around and isn't," said Erik Viker, a delegate from Selinsgrove, Pennsylvania.
When asked if he could tolerate a Johnson candidacy Viker said, "I would be more than OK with it."