Senator Joe Manchin Not Sure About Voting for Obama, Joe Lieberman Making Decision "In the Ballot Box"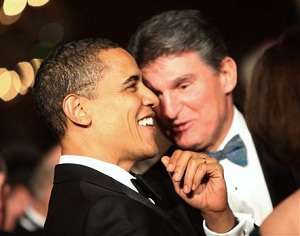 Freshman Democratic Senator Joe Manchin of West Virginia made it clear he wasn't sure if he's going to be voting for President Obama in November, according to the National Journal:
"I'll look at the options," Manchin said this week. The last three years "have made it pretty rough" for his state, he said… "The people in West Virginia, they basically look at the candidates—whatever you're running for, whether it be the president itself, or whatever—[they look at] the performance and the result that's been attained," Manchin said when asked how he will vote. "Right now in West Virginia, these first three and a half years haven't been that good to West Virginia. So, then you look [at] what the options will be, who will be on the other end."
Senator Manchin, up for re-election in November, also claimed the President never called him for a one-on-one conversation, though did not offer whether he ever sought one either."It's not a team sport. You need to go out and work for yourself," the Senator said.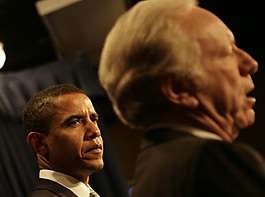 OpenCongress.org counts the Senator's votes as 80% along party lines. West Virginia hasn't voted for a Democrat for President since Michael Dukakis in 1988, and the National Journal notes cross-ticket voting in national elections has declined over the last half century. Senator Zell Miller endorsed President George W. Bush at the 2004 RNC and Independent Democrat Senator Joe Lieberman endorsed John McCain over Barack Obama in 2008. Obama intervened to allow Senator Lieberman to hold his seniority. Senator Lieberman is retiring in November and said he'd make his decision about the Presidential election "in the ballot box."
Will Senator Manchin get his call from the White House now, or is the distance actually something he'd like for now? Joe Manchin first won in a special election in 2010 to replace the late Senator Robert Byrd. Manchin was previously the governor.
Manchin's time as Governor reviewed in 2010 on Reason.tv