TSA Manager Likes Touching Strangers 24/7; Arrested For Running Prostitution Ring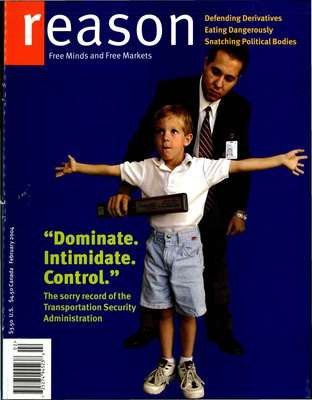 Via Instapundit comes news of the Transportation Security Administration one of the most disliked and underperforming parts of the federal government (thank you for creating it, George W. Bush):
A manager at the Transportation Security Administration has lost his job after being arrested on prostitution-related charges. According to court documents, the agency had received a complaint of "very similar" activities back in 2009.

Bryant Jermaine Livingston, 39, was arrested while on the job as a supervisor of TSA agents at Dulles International Airport. The Manassas, Virginia resident, said by phone he is innocent of the charges, but declined to discuss the details of the case.

According to charging documents, on February 15th, Livingston used cash to rent a room at the Crowne Plaza Hotel on Georgia Ave. in Silver Spring, Md. The hotel manager recognized Livingston as a previous customer who, on earlier occasions had "groups of males and females frequently entering and exiting Livingston's room," according to a court document….
Let's not miss the irony here: The TSA should be disbanded and prostitution should be legal. Priorities, people. Priorities.
Here's ReasonTV's TSA playlist. First up is the always-ennertainin' strip search. Stick around for Remy's TSA Pokey-Pokey, Con Air 2010: If You Touch My Junk I'm Going to Have You Arrested, and so much more.