Antonio Villaraigosa Failing Upward in a Democratic Party as Vacuous as He Is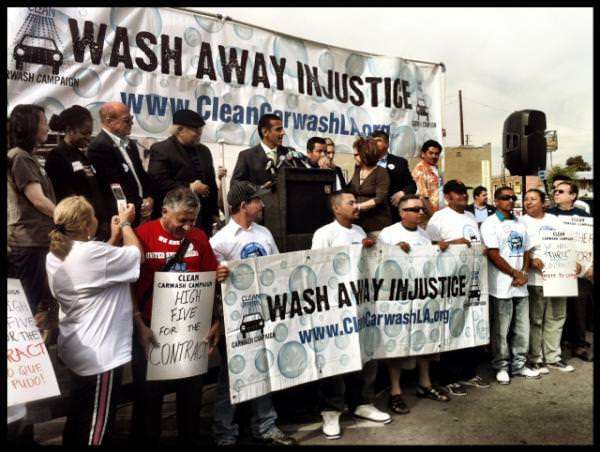 The disappointing, unloved mayor of Los Angeles, Antonio Villaraigosa, has improbably once again become a rising Democratic star. The party has just named Villaraigosa chairman of this summer's Democratic National Convention. He is one of President Barack Obama's 35 re-election campaign co-chairs. Chances are pretty decent that if Obama wins, he'll offer the former Tony Villar a job as transportation secretary when his mayoral term is up in May 2013. And this week Villaraigosa got the star treatment in a New York Times profile with the headline "Los Angeles Mayor Sets Sights on a Bigger Stage."
What's interesting about the Antonio resurgence is that there's absolutely no good reason for it. Unemployment in Los Angeles is worse than the state of California, and projected to remain in the double digits for at least another year. The city's budget shortfall may reach $200 million in 2012. Residents are routinely treated to the twin insults of utility rate-hikes and articles detailing six-figure salaries for members of the public sector unions that run essentially all of local politics. City Hall's love-hate relationship with the months-long Occupy protest on its front lawn was embarrassing and expensive. The mayor is seemingly always getting in trouble for receiving front-row tickets to every event in town. Traffic still sucks, and road quality still resembles Bucharest more than Bonn. And the local political class is a laughingstock.
So what's this all about then? The Christian Science Monitor explains:
For Mr. Obama and the Democratic Party, the benefits could be more immediate. As essentially the emcee of the three-day September convention in Charlotte, N.C., Mayor Villaraigosa will provide instant outreach to Hispanics, who could be crucial in the general election. Moreover, his contacts in the business community are expected to be a boon to Democratic money-raising efforts.

"His appointment is a coup for the Democratic Party," says Barbara O'Connor, director emeritus of the Institute for Study of Politics and Media at California State University, Sacramento. "He will attract Hispanic voters but also a lot of money by virtue of his relationship to business both in Los Angeles and internationally."
A little light on the ol' accomplishments, eh? Watch the strain here from Arturo Vargas, executive director of the National Association of Latino Elected and Appointed Officials:
"He laid out a priority of cutting crime and reforming the police and he has done that," says Vargas. "He has also addressed the issues of traffic and public transportation…this is very important for Los Angelenos," he says. "And he has strengthened the mayor's role in making education a priority."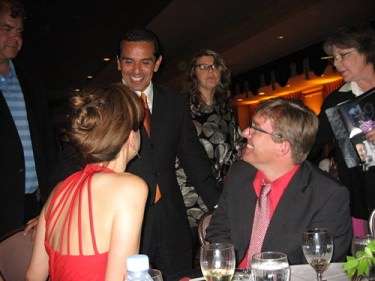 Strengthening roles to lay out priorities that address issues! Boo-ya! The New York Times treats Villaraigosa's accomplishments thusly:
Asked to list the disappointments of the past seven years, Mr. Villaraigosa, characteristically, pushed aside the query to respond with a detailed list of what he viewed as under-recognized accomplishments: crime rates at record lows, a rollback of gang activity, a $40 billion mass transit system financed by a half-cent tax he helped persuade voters to pass, and tough environmental regulations.

While there may be some dispute as to how much credit Mr. Villaraigosa deserves for all that — crime is going down across the country — it is a more substantive record than he would have been able to boast about a few years ago.

"People miss a lot of Antonio's accomplishments and also overestimate the ability of the mayor to fix the problems in his midst," said Peter Dreier, a political science professor at Occidental College. "He's been governing at a time when it's almost impossible to be a successful mayor. But he's been as successful as one can hope for."
When even a leftoid Villaraigosa apologist like Dreier can't do much more than complain that governing is just too dang hard, you know the cupboard's pretty bare.
But it's actually worse than that. With the notable exception of school reform, Villaraigosa's policy ideas and priorities are stale even by 1970s standards. If you don't believe me, just go read his Twitter feed: It's filled with WTFery like "So exciting to celebrate 1st unionized carwashes in LA: Vermont Carwash & Navas Carwash" (complete with photo of the mayor under a banner that says "WASH AWAY INJUSTICE"). Or "High speed rail means #jobs today and more transit options tomorrow." Or "#SOTU showed that President Obama will keep fighting for the investments we need. Time for #Congress to do its job. Pass America Fast Fwd."
So no wonder Villaraigosa's star is rising in the Democratic Party: His ideas and track record are almost exactly as poor as the Obama/Biden Pelosi/Reid class of 2008. The only direction to fail is up.