Watch the Final Freedom Watch with Judge Andrew Napolitano Tonight, feat. Nick Gillespie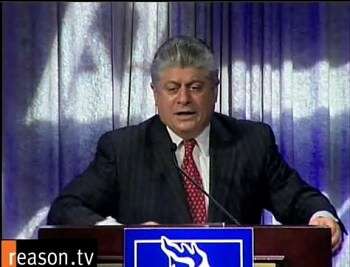 I'm greatly honored and deeply saddened to be part of the last episode of Freedom Watch with Judge Andrew Napolitano. The show airs on Fox Business at 8pm ET and reruns later in the evening as well. You will not want to miss his end-of-show commentary, which is certainly a speech for the ages. Go here for more details.
Matt Welch gives some background on the show's cancellation here.
Freedom Watch was great in its early webcast days and it remained absolutely the greatest "daily dose" of liberty ever to grace the small screen so far. On behalf of Reason, I'd like to take a moment to thank the Judge and producers such as George Szucs and Patrick McMenamin for all they did to heighten the visibility of our staffers and broaden the reach of our ideas. Far more important, I'd like to thank them for all they did to inject a truly alternative viewpoint into ongoing debates about politics, culture, and ideas. Along with the weekly Stossel show (which will continue on Fox Business), Freedom Watch was unapologetically libertarian and also one of the most wide-ranging and provocative news programs anyone could want.
The Judge will continue to grace many Fox News and Fox Business programs. And he will certainly continue to appear in the pages of Reason magazine, Reason.com, and Reason.tv, where he has already done so much to further the debate about freedom and liberty. Read his Reason archive here and watch the most recent of our video interviews with him below.