Contraband and We Need to Talk About Kevin
A movie with no purpose, a woman with no hope.
Contraband
Contraband wastes considerable energy, and several likable performers, in taking us to a place we've visited far too many times before. Although the story concerns drug-smuggling, and is set in New Orleans and at the Panama Canal, this is a by-the-numbers heist flick of such predictability that at several points you wonder why it's even unfolding.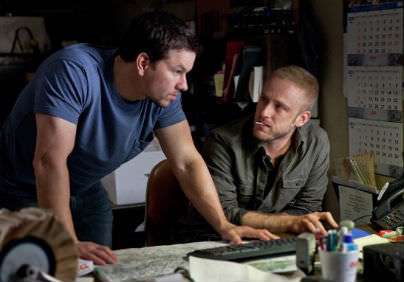 An anticipatory indifference sets in right at the beginning, as we meet Chris Farraday (Mark Wahlberg), a one-time smuggler who's gone legit and now lives happily with his wife Kate (Kate Beckinsale) and their two kids. When Chris is approached at a bar by an old underworld colleague and asked if he has thought about getting back into the crime business, we wonder…well, we wonder nothing: We know exactly where this is headed.
Then Kate's younger brother Andy (Caleb Landry Jones) becomes involved in a coke-smuggling run for a Crescent City scumbag named Briggs (Giovanni Ribisi with a hide full of tattoos and a wheezy Looziana accent). When Andy is forced to ditch the drugs he's carrying back in order to avoid a customs bust, Chris has no choice but to make a run of his own in order to raise enough money to compensate Briggs, who will otherwise kill all concerned.
So, leaving Kate and the kids to the protection of Chris' buddy Sebastian (stubbly Ben Foster)—a recovering alcoholic who's slowly un-recovering—Chris and his similarly cash-strapped pal Danny (Lukas Haas) join the crew of a container ship helmed by the corrupt Captain Camp (reliably lively J.K. Simmons). Chris' plan, once the ship arrives in Panama City, is not to score drugs, but instead a payload of counterfeit U.S. dollars. This scheme, we are unsurprised to see, goes terribly wrong, and Chris finds himself mixed up with a crazy drug lord named Gonzalo (Diego Luna—always a pleasure to watch, even here).
There's much tearing around, and an extended gunfight, a furious escape back to the ship, all kinds of rote tension and treachery, even a cameo contribution by Jackson Pollock (!). It's a busy picture, but it far overshoots our willingness to care about it.
Fans of Wahlberg, an actor so full of unexpected resources, might well worry that he's scheduled to shoot another film with the Icelandic director of this one, Baltasar Kormákur. Contraband is the sort of Hollywood product that gives January such a bad name among moviegoers. Although it would still be what it is—not much—whenever it limped into theaters.
We Need to Talk About Kevin
We Need to Talk About Kevin considers the dark question of where monsters come from. The movie is arctic in its emotional tone, with a carefully reined-in pace; and while it nods lightly in the direction of the old nature-versus-nurture debate, it settles firmly on the side of nature, demonstrating that sometimes evil just is.
The monster at issue is a boy named Kevin, the son of Eva Khatchdourian (Tilda Swinton) and her prosperous husband, Franklin (John C. Reilly). Prior to their marriage, Eva was a well-known travel writer, and she turns out to be ill-suited for stay-at-home domesticity. As a baby, Kevin cries and screams without letup, subsiding only when Franklin takes the child into his arms. Eva is exasperated, and when Franklin decides to move the little family out of the city in which they live and into a big house in a bland suburb, her heart sinks.
By the time he's six, Kevin (played by the precociously unsettling Jasper Newell) has become a figure of brooding hostility, slyly destructive and impervious to his mother's attempts to bond with him (although he's sweet and winning with Franklin). Moving into his teens—and now played to scary perfection by Ezra Miller—the boy is revealed as a pure sociopath, a malevolent presence with shifting serpent eyes under a thatch of midnight-black hair. Appalled by her nightmare child, and frustrated by Franklin's refusal to acknowledge his bent nature (they need to talk about Kevin, but they never really do), Eva crumples into a despondent haze of wine and pills. After she delivers a sibling named Celia (Ashley Gerasimovich) into the family, the sunny little girl becomes another target for Kevin's startlingly cruel torments. (He addresses her as "retard," and at one point takes a vacuum cleaner to her hair). When Celia's pet hamster disappears, we fear the hideous worst, and turn out to be right. When she is blinded in one eye, we don't actually see what has happened, but by this point we know.
The movie is based on a 2003 novel by Lionel Shriver (actually a woman—a significant point in regard to the story's orientation toward female trepidations); and the Scottish director, Lynn Ramsay, making her first movie since the 2002 Morvern Callar, maintains exacting control of the film's fractured narrative. The story is presented in jumbled shards, and in the beginning it's difficult to keep track of where we are, and when. Why is Eva suddenly living in a small, shabby house splattered on the outside with red paint? Why are her neighbors accosting at her with such hatred? What is the clamorous crime scene at which she arrives one night, and why is the crowd on hand so horror-struck? The story steadily comes together, though, and by the time we see Kevin entering his high school with high-tech bow and arrows (a Christmas gift from his dad), and then grimly locking the exit doors, no question remains. Except the presiding one: Why?
The movie is serenely styled, its bland environments flecked with daubs of bloody red—red soup cans and breakfast jam, red jackets and foliage, and a bedside clock that always seems to be flashing 12:00 in pulsing red digits, suggesting a police emergency signal. This insistent color design, which recalls the subtler chromatic strategies of Pedro Almodóvar, calls too much attention to itself after a while; and the notion of a high-school slaughter being carried out with bow and arrows is jarringly implausible. But the movie has a relentless, harrowing power; and Tilda Swinton, who's at the center of virtually every scene, gives a singular performance, conveying the depths of human despair through a character who is at times near-catatonic. When Eva asks Kevin to explain the purpose of one of his dreadful actions, we can feel her soul hitting rock bottom as he replies. "There is no point," he says, gazing at her with dead eyes. "That's the point."
Kurt Loder is a writer living in New York. His third book, a collection of film reviews called The Good, the Bad and the Godawful, is now available. Follow him on Twitter at kurt_loder.