Stupid, Unwarranted Arrest in NYC Allows Canadian Student to Feel Even More Smug Re: USA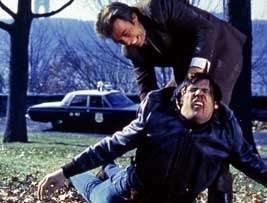 From the web-soundings of movie reviewer, blogger, and writer extraordinaire Alan Vanneman comes this tale of life in Nanny McBloomberg's New York City.
New York Magazine reports on the case of Aaron Vansintjan, McGill University student visiting the Big Apple over the holidays. After shopping at Macy's and heading way uptown to meet some friends at The Cloisters (sight of the one of the very dumbest chase scenes in one of the very dumbest Clint Eastwood flicks,1968's Coogan's Bluff), Vansintjan was tackled and arrested by some of the NYPD's finest.
Someone had identified him as the burglar in the theft of a Macy's bag that it turned out never happened. The accuser was sent to a psychiatric hospital, but no one told the kid that. Instead, Vansintjan was interrogated and scolded for his antique pocketknife. He says police never explained to him his right to stay silent or get a lawyer.

The wrongfully accused tourist was eventually released in the evening, but probably wouldn't have been "[i]f I weren't white," Vansintjan said; he noticed that everyone else in his holding cell was of color and being held on marijuana charges.
Just so there's no discussion about my evaluation of Coogan's Bluff, here's a great nightclub scene from that flick. It takes place at a hippier-than-thou club called the Pigeon Toed Orange Peel, fer chrissakes. Come for the flower children who look like 4-F rejects from Sgt. Pepper's Lonely Hearts Club Band, but stay for the naked black chick who zip lines down from the ceiling and into Clint's 10-gallon hat around the 1.35 minute mark.