New Hampshire Supporter: Only Ron Paul Can Save Us From Scurvy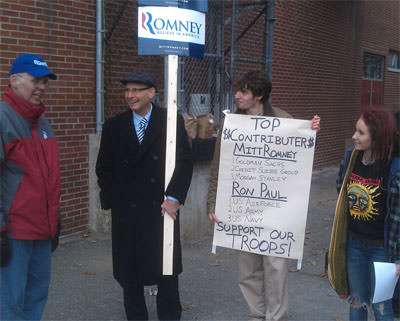 MANCHESTER, NH – I hit local polling places today and pestered some New Hampshire voters about their choices and why they think their state should continue to have its coveted First In The Nation status.
I didn't know that the Buddy Roemer voter existed, until today. They were like a mythical creature in a kids fantasy/adventure story. Fortunately, I came across two of these strange creatures in their natural habitat of Bow this morning.
"We saw him on the Daily Show with Jon Stewart and he impressed. He didn't have the extreme conservative, social conservative views of the other candidates that really turned us off to the other candidates, like Santorum," said Joe Lessard, 38.
They weren't deterred by his long odds, though.
"Yeah, he's a long shot but (my vote is) more of statement," said Joe.
Joe and his wife, Rebecca, both said they would probably vote for President Obama in the general election if Roemer is not the nominee.
"I guess he is better than the alternatives on the Republican side," said Rebecca, also 38.
Near the famous Philips Exeter Academy I came across the first sign touting Ron Paul of the day. Austin Coad and Taylor McGuinness, two teenagers too young to vote, were encouraging voters to vote for Paul with signs and flyers talking up Paul's financial support from the military.
"He wants to restore our Constitution back to its original, our founders. He's been saying the same thing for 30 years, unlike Mitt Romney," said the Sublime t-shirt clad and dreadlocked McGuinness, 17.
Coad said he liked Paul because of his "health freedoms amendment" and positions on the pharmaceutical industry.
"The disease scurvy can be cured by eating citrus fruit because you just need Vitamin C, but according to the law if you hold up an orange and say this is the cure to scurvy you can be arrested for a federal crime," said Coad.
Rick Santorum voter Kate Copland, 34, said she voted for him because she was looking for the "Romney alternative." The mother of three said she did not like Romney because of his positions on health care and his "Mormon views." This was the one and only instance of Romney's religion that I have come across during my entire time in New Hampshire.
In the more working class Salem turnout was high. Paul supporters were, again, displaying an imposing black and white sign about his military supporters. Stephanie Hamilton of Saugus, MA, holding a sign for Paul said that an independent group of veterans put the signs together.
The entrance to Manchester's Ward 5 polling place had over ten voters outside of it with large Ron Paul R3VOLUTION signs. "His ideology is more what I believe. I got to see what a military intervention was like when I served in Germany a few years back," said James Coakley, 42, a member of the Free State Project. Paul won that ward with 233 votes followed by Romney with 192.