Illinois Congressman Fights Deportation of Gabino Sanchez, "Father and Working Man" Who Has Been In Country 13 Years, Has No Prior Criminal Record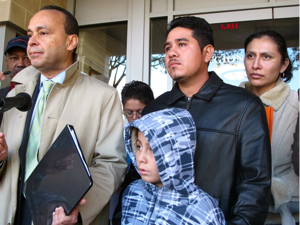 Gabino Sanchez came from Mexico to the United States when he was 14 years old. For the next 13 years, he worked construction and landscaping jobs in South Carolina to support his wife and two children, who are legal U.S. citizens. Sanchez is not.
Sanchez had never been arrested until he was stopped for a traffic violation and turned over to U.S. Immigration and Customs Enforcement (ICE). Sanchez did not have a driver's license, and police suspected he was in the country illegally.
"You're going to fill your jails with plenty of Gabinos," said U.S. Rep. Luis Gutierrez (D-Ill.) when he visited ICE officials in Charleston yesterday to urge them to drop Sanchez's deportation proceedings. A new South Carolina law aimed at curbing illegal immigration goes into effect Jan. 1, pending a legal challenge by the U.S. Department of Justice. Gutierrez said he wanted to show "that the immigrant community does have a way to defend itself" and that federal policies exist that can protect immigrants from deportation if they have strong ties to the United States. He added that "deporting a father and working man is not in the best interest of our country."
"I got two boys," said Sanchez, "that are U.S. citizens. I got my wife. I worked all my life over here in this country."
Gutierrez also asked officials to review the case of Roger Rablero Martinez, 20, who was also stopped for a traffic violation and detained when he did not have a driver's license.
"My parents brought me here when I was 12," said Martinez. "I didn't want to come but they brought me." He, like Sanchez, has no prior criminal record.
"Cases like this," said Rep. Gutierrez, "show whether the Obama administration is serious about using deportation as a tool to remove serious criminals and not as a tool to split up American families."
Read more about the Justice Department's legal challenge to South Carolina's law here, Reason on immigration here, and Reason's infographic illustrating "America's absurd immigration waiting line," which includes virtually no legal path to citizenship for low-skilled workers, here.