Meet the Guest-Blogger: "Culinary Freedom" Fighter Baylen Linnekin of Keep Food Legal

I'm happy to introduce a guest blogger for this week at Hit and Run.
Baylen Linnekin is the founder and head of Keep Food Legal, a nonprofit that is dedicated to preserving and expanding "culinary freedom," the radical idea that people should be allowed "to grow, raise, produce, buy, sell, cook, and eat the foods of their own choosing." That seems like a simple idea, but as the ever-growing proliferation of bans on everything from lemonade stands to foie gras attests, a group such as Keep Food Legal is needed now more than ever. KFL is not only the first and only organization of its kind, its the only group I've ever heard of that has a spork in its logo.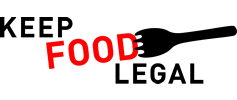 A bit about Baylen: He's trained as a lawyer (getting the bad news out of the way first) and worked at the Drug Policy Alliance for a spell. He cofounded the blogs To the People and Crispy on the Outside and has published work in outlets ranging from academic journals to various newspapers to Reason. His most recent article for us, an April 2011 investigation of "The Lobster Underground" and a shadowy figure named "Dr. Claw" was a instant classic, drenched in butter, served on a toasted split-top roll, and salted generously with good-humored outrage at useless regulations that make it harder for cook and customer to come together.
He's also guest-blogged at Hit and Run in the recent past. Go here for his full Reason archive and go here for his official bio. You can follow him at Twitter by going here. And Keep Food Legal by going here.
Back in June, he appeared on Freedom Watch to talk about calls to regulate food advertising to children. Take a look: