A World Where Outlaw Bikers Are Bad, But Government Agents Are Even Worse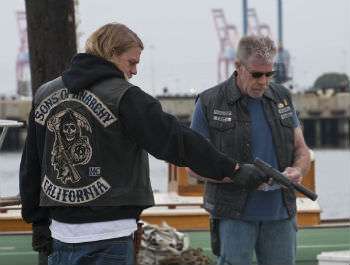 Sons of Anarchy is a Sopranos-style crime drama airing on FX television that follows the violent exploits of an outlaw motorcycle club known as the Sons of Anarchy. The show's main story line is a retelling of Hamlet, with the vice president of the club, Jackson "Jax" Teller, slowly discovering that his father, the club's founder, was murdered by the man now running the crew (and now married to his mother).
But there are a few more contemporary twists as well. One of the biggest is the recurring theme of lawless government officials. Regular viewers have already seen one federal agent stalk and assault Teller's girlfriend, while another federal agent framed his mother, Gemma (played by former Married with Children star Katey Sagal), for murder. And now, deep into Season 4 (episode 12 airs tonight), we have yet another diabolical fed on the loose, an assistant U.S. attorney who's more than happy to ruin careers and sacrifice human lives if it will help him build a case.
Rogue cops are nothing new on TV, of course, but rarely do we see such a relentlessly negative depiction of federal agents—particularly in contrast to the show's often sympathetic portrayal of the murderous bikers, who are frequently shown to be men of courage operating within their own unique honor system. Unlike the typical prime-time crime drama, which features a noble hero breaking the law in pursuit of the greater good—such as counter-terrorism maestro Jack Bauer on the Fox hit 24—Sons of Anarchy makes a very different point about law and order: The government's ends don't always justify its means.