Milwaukee's Taxi Cartel Suffers Potentially Fatal Collision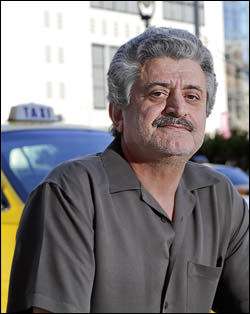 All you need to own your own cab in Milwaukee is a car and $150,000.
In 1991, Milwaukee's taxi licensing council decided to allow cab drivers to transfer licenses, which had been previously forbidden. The change pleased cab drivers, who could now sell their businesses to other would-be drivers. The council also voted, however, to cap the number of taxi licenses in the city at 321.
One dissenting member of the council didn't like "medallion policies" of other cities and predicted that the price for Milwaukee licenses would skyrocket, saying that he didn't "want to see the cost of a license go up to $10,000." Today, with one cab per 1,850 Milwaukee residents, cab licenses sell for 15 times that.
Public-interest law firm Institute for Justice (IJ), along with local drivers Ghaleb Ibrahim, Jatinder Cheema, and Amitpal Singh, filed suit against the city last week. They claim that Milwaukee's cab licensing system creates a cartel that benefits entrenched businesses who have licenses while violating the right of drivers like Ibrahim to earn a living.
"I should be able to apply for it just like any other license that the City Hall offers to the public," Ibrahim said in an IJ video. "All that I want is to own my own business."
Ibrahim immigrated from Jordan in the late 1970s and has driven taxis in Milwaukee for the past two decades—but never his own. He's a local entrepreneur who is qualified and insured to drive a cab. But because he can't afford a license, he has to pay an expensive rental rate to use someone else's taxi.
IJ has led successful efforts to abolish cab license caps and break up similar taxi cartels in Minneapolis and Denver. In its Milwaukee suit, IJ notes that the ratio of cabs to residents in Minneapolis is now 1 to 550. In Denver, it's 1 for every 480 residents.
As Jim Epstein and Nick Gillespie have documented, Washington, D.C., is considering implementing a similar taxi licensing system that would reduce the number of cabs by one-third, put thousands of drivers out of business, and make it that much harder to find a cab on a Saturday night. Let's hope that IJ is watching.
Read A. Barton Hinkle on How taxi licensing drives up costs while enriching special interests.