The Murder of a Mexican Journalist and Social Media's Mixed Blessings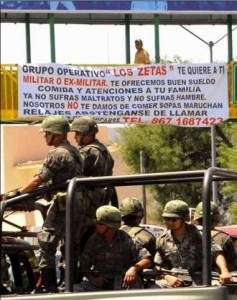 Mexican journalist María Elizabeth Macías Castro was found dead last Saturday in Nuevo Laredo. The Committee to Protect Journalists (CPJ) reports that the drug-related murder is "the first case CPJ has documented in which someone was murdered in direct retaliation for journalism posted on social media."
Macías Castro apparently worked for a local newspaper, but the paper wouldn't confirm her employment status to CPJ. Her murderers, however, weren't motivated by anything she'd published under a byline with her given name—the killing was retaliation for content she had posted online using a pseudonym on Twitter and elsewhere.
The note left by the murderers left no doubt. "Ok. Nuevo Laredo Live and social media, I am the Girl from Laredo and I am here because of my reports and yours… ZZZZ." The "ZZZZ" signature suggests a link to the vicious Zetas drug cartel.

Local journalists told CPJ that the note referred to Macías Castro's online pseudonym "La NenaDLaredo" (The girl from Laredo), under which she posted information about crime on Twitter and on the website Nuevo Laredo en vivo (Nuevo Laredo Live). The Mexican website Animal Político reported that Macías moderated the chat forum of Nuevo Laredo en vivo, where users often denounced organized crime and the authorities, and that her last posted comment before her death was "Hunting rats, if you see where they run, denounce them." Another message from Nuevo Laredo en vivo's Twitter account read, "Raid by federal police on false document makers on bridge II, it was time." It is not known how Macías' killers discovered her identity.
Journalists, activists, and even grandmothers are using tools like Twitter, YouTube, and Facebook to spread information. But using social media for political ends entails costs, or at least risks, that citizens who have never published under a byline may not consider. Macías Castro worked as a journalist at least some of the time and no doubt knew the risk she was taking by denouncing local crime rings online. The same may not be true of many citizens who comment about similar topics online or tweet The Revolution.
Examples like the Kelly Thomas case demonstrate the capacity of social media to transfer power from government and other institutions to the masses. But the murder of Macías Castro, like the public hanging of two Iranian activists who posted videos on the internet during the 2009 "Twitter Revolution," reveals the mixed blessings of social media.
For more, read Jesse Walker on how the Zeta drug cartel has become "a state within a state" in Nuevao Laredo, or check out Reason's drug war archive.