Alabama Cracks Down on Illegal Immigrants, Screws Sweet Potato Farmers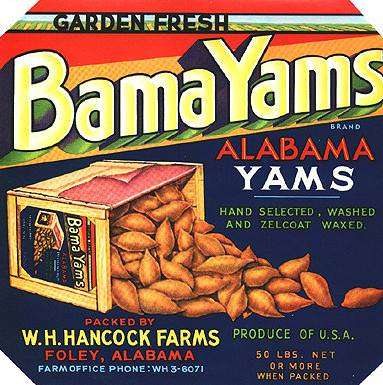 If you're an unemployed American who knows how to harvest sweet potatoes, consider heading to Alabama.
Yesterday, U.S. District Court Judge Sharon Blackburn upheld the portions of a stringent law that authorizes police to check immigration status during traffic stops and requires public schools to check students' immigration status when they enroll.
The Obama administration filed the main lawsuit challenging the law on the grounds that the federal government alone has power to enforce immigration law. Until she has time to make a final ruling, Judge Blackburn temporarily blocked some provisions, like one that would ban transporting or harboring an illegal immigrant and another that would make it illegal to stop on the side of the road and hire someone. The court may eventually decide to uphold all sections of the law.
Farmers in Alabama now worry whether they'll be able to hire enough laborers for harvests, and they've got plenty of reason to fret given the situation one state over. Georgia passed a similar law cracking down on illegal immigration last spring, only to face a shortage of migrant farm workers shortly thereafter. "The labor shortage is potentially putting hundreds of millions of dollars in crops at risk, say state agricultural industry leaders," The Atlanta Journal-Constitution reported in June.
The Tuscaloosa News reports today:
"There are some sweet potato farmers in this state it's really going to hurt. I don't know how they're going to get their crops out," said Jeremy Calvert, a farmer in rural Bremen.
Earlier this summer, Tuscaloosa residents were already concerned about the potential effects of new restrictions on immigrants. The tornado that ripped through Tuscaloosa last April destroyed more than 7,200 homes and businesses, and people wondered how they'll rebuild a city when many of its immigrant concrete pourers, framers, roofers, and other construction laborers were leaving town. In July, The Tuscaloosa News reported:
Jimmy Latham, CEO of WAR Construction in Tuscaloosa and president of the Alabama Association of General Contractors, said the rebuilding in Tuscaloosa will be most noticeable by January and February 2012, and that's when people here might see the impact of the new law.

"Statewide, what we think will happen is that the (work) crew sizes will get smaller and prices will go up," said Latham, whose association represents contractors doing industrial, commercial and infrastructure projects.
It will take at least a few more months to see whether or how the new law affects Tuscaloosa's rebuilding. But many of the construction laborers, farm workers, dishwashers, and contributors to Pulitzer Prize-winning reporting who live and work in the U.S. probably aren't in a hurry to move to the Yellowhammer State.