Roswell Couple Refuses to Let DEA Agents Inside Their Fugitive-Free Home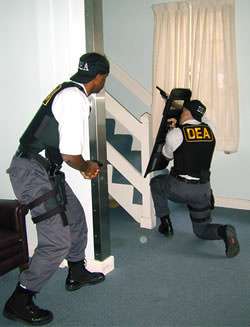 In a story notable not just for a lack of puppy death, a couple in Roswell, New Mexico, were recently rattled by the abrupt arrival of Drug Enforcement Administration (DEA) agents, guns out, at their door.
The woman, Nancy Parker, told KRQE news that she was shocked and frightened by the experience, which was apparently motivated by "a citizen's tip." What is more surprising is the following:
My husband asked, 'Do you have a warrant? Who are you looking for?' and they said, 'Gerald Sentell,'" Parker said. "We don't even know this person."…
Parker said she and her husband were wary of cooperating because they weren't sure what was going on.
When asked if she thought the officers could have been impostors, Parker replied, "Yes. That's very much what we thought, and that's why my husband said no, you're not coming in this house without a warrant."
The agents apparently took no for an answer and left. The DEA dubbed all of it "procedure."
Reason on DEA mischief.