Report on the Weekend Revolt Against Capitalism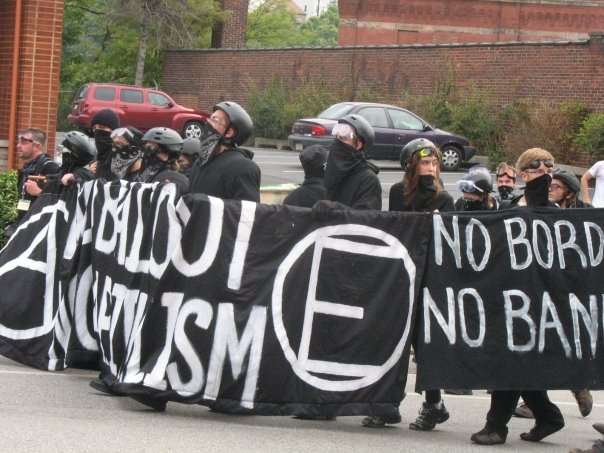 Capitalism seems to have survived the weekend.
In case you didn't hear, a motley crew of the generally outraged, including members of hackivist group Anonymous, the tedious Adbusters, which first published the idea in July, and far fewer average Joes and Janes than the groups had hoped, tried to overthrow the shackles of capitalism and other stuff, on Saturday. They gathered in San Francisco, Portland, and New York City's financial district.
How did it go?
Well, a few thousand, but far fewer than the 20,000 hoped for, showed up in New York City and a few of them are still there. There were a few arrests, including some over a creepy anti-mask law. And over at Pajamas Media, there's a good, awkward round-up of the proceedings, with plenty of familiar photos of activists in black. Particularly good is this mention of the forever-baffling alliance between leftists and supposed anarchists:
In American politics there are two strong currents of anti-capitalist thought: Marxism/communism/socialism versus Anarchism/far-left-libertarianism. The problem is that these two ideologies are fundamentally at odds; one advocates hyper-centralization of political and economic power, while the other advocates hyper-decentralization.

In earlier times, the communists and the anarchists hated each other; they are natural enemies. But in recent decades they have formed an uneasy and deeply unstable alliance; since they both hate the status quo of American capitalism, they feel they ought to band together and smash the system as a unified front, and worry about how to pick up the pieces later.
(I'm not sure how uneasy the alliance is, considering how many anarchists I knew in college who were more than willing to compromise with socialism if they couldn't have anarchism.)
Bonus mocking of Adbusters types using a livestream with lots of corporate sponsorship.
As much as Anonymous occasionally does awesome things like be on the right side of the murdered Kelly Thomas, or hack the official Syrian website, some of them also joined this sea of people who can't tell the difference between corporatism and capitalism. Which makes those individuals…not unique and not particularly radical.
Reason on another Anonymous activity. Reason on Anarchism.