Why "Autumn" Revolution Won't Spread to Cuba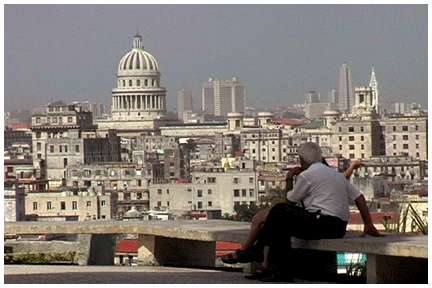 Things occasionally relax a little between Cuba and the United States, but man does the news mostly just repeat its self. President Obama just upped the embargo for at least another year and former New Mexico Gov. Bill Richardson seems to be having no luck in his efforts to free an American citizen imprisoned in Cuba for supposed spying.
Salon has (republished from Global Post) a good general look at why the hopeful-to-some signs of revolt in the Middle East may not spread to everyone's favorite Communist hold-out.
The big problems, besides an overabundance of Castros? Not enough rabble-rousing technology, and lingering paranoia about the U.S.:
[A]ctivists are once more testing Raul Castro's tolerance for public protest—and whether the tactics used by tweeting insurgents in the Middle East could spread anti-government sentiment here.

One disadvantage often cited by Cuban activists is that they operate at a significant technology deficit. The island is one of the least-connected countries in the world, and though many young people have mobile phones, most lack access to Facebook, Twitter and video-sharing sites because of internet restrictions and scarce bandwidth.
Anti-Castro activists on the island are also viewed suspiciously or with outright hostility by many Cubans, even those who have lost faith in Cuba's socialist model. State media broadcasts frequently show them meeting with U.S. diplomatic officials, depicting them as "counterrevolutionaries," "mercenaries" and "opportunists" who are out to make a buck or get political asylum abroad.
Whole thing here. The author, Nick Miroff had an interesting National Public Radio piece on Sept. 2 about Havana women who hitchhike instead of talking the crappy bus system.
Nick Gillespie on Cuba and the other key ingredient in revolution, rock and roll and Michael Moynihan on the continued difficulties faced by dissident Cuban punk band Porno Para Ricardo.