Leaked Memo: Killing Key Cartel Members Isn't Keeping Drugs out of the U.S.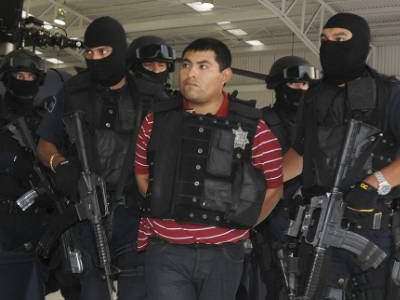 Arresting or killing "key" cartel players "does not significantly impact drug trafficking flow" into the U.S., reads a leaked memo from Customs and Border Protection. What does affect the flow of drugs into the U.S.? Crop cycles and religious holidays.
Since 2006, the U.S. and Mexico have been operating under the assumption that capturing or killing the heads of the cartels would cripple their organizations. The drug-related murder count (as many as 43,000 people in the last five years) and the fact that two-thirds of Mexico's most wanted are either dead or in jail appear to be the only discernible results of that strategy.
And now it seems even the Department of Justice is willing to admit–at least internally–that its strategy is not working. The full conclusion of the Customs memo reads as follows:
The removal of key personnel does not have a discernable impact on drug flows as determined by seizure rates. [Drug trafficking organizations] operations appear to have built in redundancy and personnel that perform specific duties to limit the damage incurred by the removal of any one person. By sheer volume alone, drug operations would require more than one individual to coordinate and control the process. While the continued arrest or death of key DTO leadership may have long-term implications as to the control and viability of a specific DTO, there is no indication it will impact overall drug flows into the United States.
The National Drug Threat Assessment released yesterday by the Department of Justice makes equally significant concessions:
The Mexican-based organizations' preeminence derives from a competitive advantage based on several factors, including access to and control of smuggling routes across the U .S . Southwest Border and the capacity to produce (or obtain), transport, and distribute nearly every major illicit drug of abuse in the United States. These advantages are unlikely to change significantly in the short term, ensuring the dominance of Mexican-based TCOs for at least the next several years.

NDIC assesses with high confidence that Mexican-based TCOs control distribution of most of the heroin, marijuana, and methamphetamine available in the United States. Moreover, production of these drugs in Mexico appears to be increasing.

Mexican-based TCOs were operating in more than a thousand U .S . cities during 2009 and 2010, spanning all nine OCDETF regions.
Emphasis mine. So, at the same time the U.S. and Mexico have put more pressure on the cartels (instigating the slaughter of tens of thousands of innocent people in the process), the cartels have been trafficking more drugs into the U.S., and claiming more turf in U.S. markets.
This strategy isn't working.