Cool New Nutrition Labels Will Never Appear on Actual Food
The food-obsessed folks at the UC Berkeley Graduate School of Journalism held a public contest to improve the nutrition labels on ordinary food, which "distracts and confuses with unimportant information, and obscures the important facts." Plus, "as a table of numbers, it's also difficult to read and interpret."
Here's the winner—according to both the judges and the popular vote: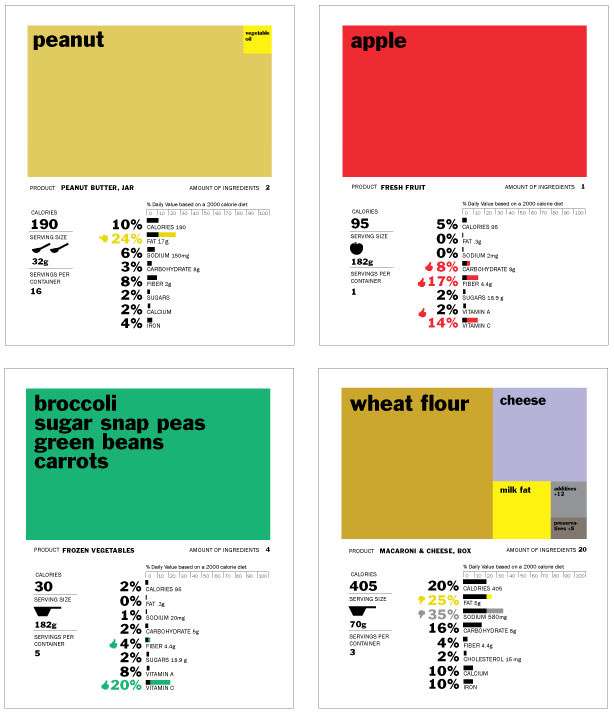 Pretty neat, right?
Too bad that—barring the initiation of a massive months- or years-long process involving hundreds of federal employees—we're stuck the current mass of unless clutter and nutritional red herrings. Because those labels aren't just bad design—they're mandatory bad design. Food manufacturers can't experiment much with nutritional claims on their packaging without running afoul of the law, so contest like this one are purely recreational.
(Fun KMW fact: When I was 15, I participated in one of the first Take Your Daughter to Work Days. My mom took me to a conference chock full 'o federal nutritionists. One of the feds cornered me at the buffet table and quizzed me on whether I liked the (then new) labels. Suck up kid that I was, I shook her hand, looked her in the eye, and said I loved them. I was totally lying.)
(Fun Wikipedia fact: Bill Clinton bestowed and award for design excellence on the designer of the current nutrition label in 1997.)
Via Flowing Data.