Baby, I'm an Anarchist, You're a Member of Al-Qaeda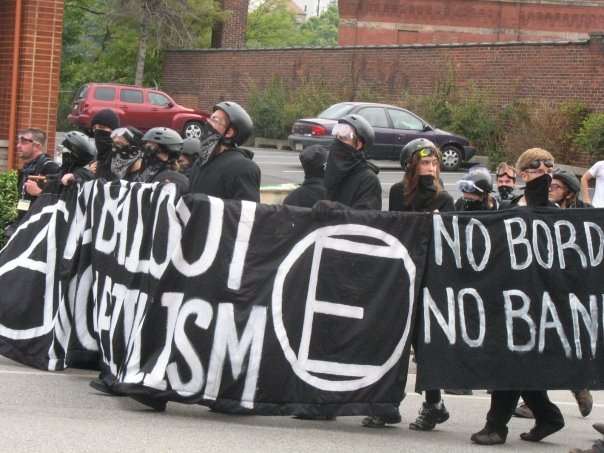 Absurd terrorism comparisons are not just for Americans during debt-ceiling season. British police in the City of Westminster are now (slightly) back-peddling from last week's request that the public, and shopkeepers in particular, keep an eye on any neighborhood anarchists. The implication that a diverse political philosophy was inherently criminal made some anarchists angry. It also reads creepily similar to the controversial 2009 Homeland Security memo about keeping an eye on extremists including those who "reject federal authority in favor of state or local."
The report came from the police as part of Project Griffin, an anti-terrorism initiative. So just a few paragraphs above the plea to report any and all Al-Qaeda activities was this:
Anarchism is a political philosophy which considers the state undesirable, unnecessary and harmful, and instead promotes a stateless society, or anarchy. Any information relating to anarchists should be reported to your local police.
Obviously some anarchists smash windows, or participate in black blocs, which can include both civil and less so disobedience. But others just protest peacefully, albeit often while just as-clad-in-black-with-face-covered as any riot cop.
Police admitted yesterday that the report's wording was sloppy. Or rather, they assured people they weren't trying to step on the toes of any "legitimate" political expression. They were just anticipating security concerns with the 2012 Summer Olympics and other large events, like recent spending cut protests.
And police were just trying to get the public to report actual crimes against property and people; Which are, of course, already against the law, no matter whether 19-year-old CrimethInc readers are running through the streets or not.
Brian Doherty on the parallels between law enforcement's reaction to terrorism today and its reaction to anarchism 100 years ago.