Obama to Talk About Debt-Ceiling Tonight at 9pm ET: Open Thread
President Barack Obama is ready to disrupt normally scheduled shows tonight to give a talk about the debt-ceiling debate:
Raising the stakes and seeking to seize back control of the debate, the White House said Obama would address the nation at 9 p.m. EDT (0100 GMT) about "avoiding default and the best approach to cutting deficits."
That's from the Chicago Tribune, which also notes a few other things:
The stalemate [in settling on a plan to cut spending and/or raise the debt ceiling] rattled investors worldwide, sending stocks and the dollar down and pushing gold to a record high, but falling far short of the panicky sell-off that some politicians in Washington had feared after weekend talks broke down….

House of Representatives Republicans unveiled details of a two-stage deficit reduction plan that would start with an initial $1.2 trillion in savings over 10 years. It is sure to be rejected by Obama because it would raise the debt limit for only a few months, meaning the issue would have to be revisited early next year.

Obama's Democrats formally presented their competing plan for $2.7 trillion in deficit reduction over the next decade but with a debt limit increase that would carry through the November 2012 elections, when Obama and many lawmakers are up for re-election….

Neither plan may be enough to avert a downgrade by ratings agency S&P, which has indicated it wants to see a $4 trillion deficit reduction plan over 10 years. Critics said both sides appeared more interested in scoring political points than forging compromise as the 2012 campaign gathers steam.
A few things to keep in mind about this all:
1. It is now generally understood that reaching the debt limit does not equal defaulting on the debt. It's a good thing that we've come to that realization, as it provides a starting point for discussion going forward. As we've stressed here, any default—which would indeed have major impacts on all sorts of things—is a choice, not a fait accomplit.
2. August 2 is not Armageddon etched in stone. That's not to say that the government (and let's face it, taxpayers, it's them—Republicans and Democrats in Washington, who have joined hands over the past decade at least to spend us into the poor house—against us) doesn't need to figure out what to do. But it's one more sign that there ain't a lot of trustworthy talent in the captain's quarters.
3. As the Trib article above notes, the debt limit isn't the ultimate issue when it comes to bond ratings and investor confidence. It's the far more important issue of whether or not the government is going to get its act together regarding fiscal sanity. S&P, which has plenty to answer for given its role in the fiscal crisis, wants to see at least $4 trillion less going down the rat hole over the next decade. Even that's a down payment on ratcheting down government spending that has absolutely exploded in the 21st century. Here's a snapshot from the historical tables prepared for fiscal year 2011 by the Office of Management & Budget: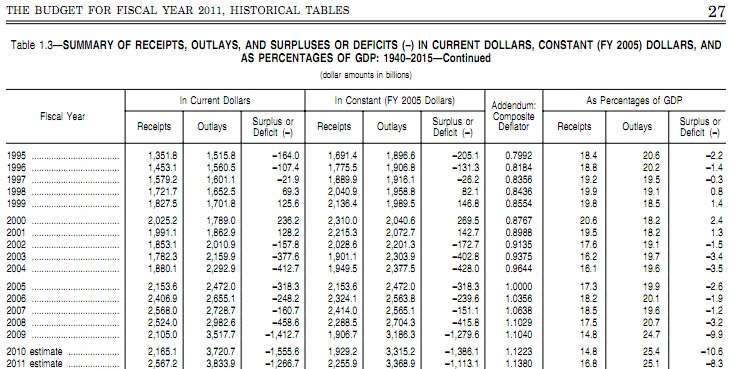 4. If the pols really want to part short-term politics aside, it's worth considering a short-term fix that gives a coupla-few months to really has out a longer-term plan and make the 2012 election a referendum on different approaches to budget policy and priorities. I know what my first draft of a plan would look like. And we know what the GOP's Ryan plan and Obama's budget would be like. One would end up spending $4.7 trillion in 2021 and the other would spend $5.7 trillion. Neither of those is a realistic plan.
So let's get cracking on getting back to something like sanity. We don't need to—and shouldn't—govern by panic. But time ain't on our side, either.