Dispatches From the Food Truck Wars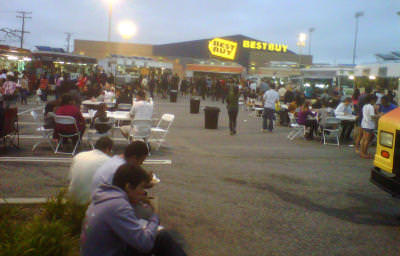 Hawthorne, California:
[T]rucks were evicted from their makeshift home outside of a Best Buy store a few weeks after they began congregating there on Tuesday nights in June.

City officials said the Municipal Code does not allow for the new food phenomenon. But the city's rejection drew ire from hundreds of fans […]

Mayor Larry Guidi said he opposed the trucks because they could take business away from established restaurants in the city. However, he said last week that he would support them under certain circumstances and will work with city staff members to outline the rules for food truck gatherings.

"I don't want to hurt our local businesses and restaurants," Guidi said. "I like the idea of having a special events permit so we can control it and collect fees." […]

Currently, the Municipal Code restricts food trucks on private property to park for only 30 minutes and only serve people living or working on that property, interim City Manager Arnie Shadbehr said.
Update here.
FOOD trucks, those rolling symbols of New York City's infatuation with haute casual food, are suddenly being chased from Midtown Manhattan. In the last 10 days, the Treats Truck, which has sold cookies and brownies for four years during lunchtime at West 45th Street near Avenue of the Americas, has been told by police officers that it is no longer welcome there, nor at its late-afternoon 38th Street and Fifth Avenue lo

cation. The Rickshaw Dumpling truck, a presence for three years at West 45th Street near the Treats Truck, has been shooed away as well.

The police "have told us they no longer want food trucks in Midtown," said Kim Ima, the owner of the Treats Truck, a pioneer of the city's new-wave food-truck movement, who began cultivating customers on West 45th Street in 2007. […]

David Weber, president of the New York City Food Truck Association, which represents 24 vendors, said the police activity is a result of a May 24 ruling by Justice Geoffrey D. Wright in New York State Supreme Court. The decision reinforced a city Transportation Department regulation, believed to date from the 1950s, stating that no "vendor, hawker or huckster shall park a vehicle at a metered parking space" to offer "merchandise for sale from the vehicle."

"Until now this law was very inconsistently enforced," Mr. Weber said, "but now Judge Wright's decision is trickling down to the precincts."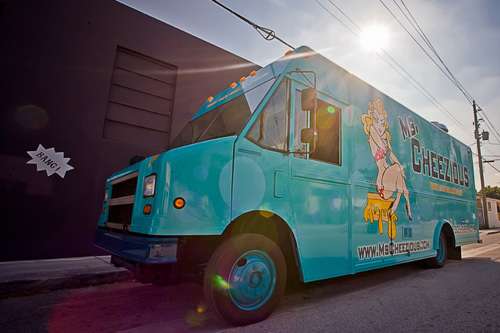 And my favorite one, from North Miami, Florida:
North Miami city council members postponed a vote on whether to regulate food trucks after realizing the proposed rule might ban the city itself from using the popular mobile eateries at official events — like the July Fourth celebration.

Councilman Scott Galvin worried at Tuesday's meeting that the proposed ordinance might potentially put the city in violation of its own rules.

"Let's make sure this doesn't shut us down," Galvin said, noting the city is partnering with the food trucks for a Fourth of July celebration Monday Florida Internationa University's Biscayne Bay campus.

The proposed ordinance would only allow mobile vendors to sell food products in industrial districts, construction zones where work is currently underway, and as an accessory to colleges and universities that provide a culinary curriculum.
Reason on food trucks here.