Utah's Liquor Laws: Still Crazy, but Less So (I Think)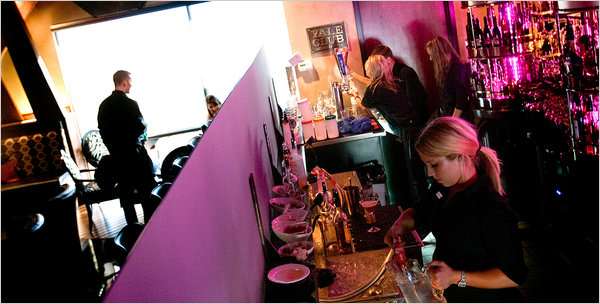 Two years ago, in what may have been his single greatest achievement as governor of Utah, Jon Huntsman signed legislation that eliminated the state's "private club" rule for serving alcohol. No longer would bar patrons have to pay a fee to join a legal fiction before ordering a drink. But as The New York Times notes, Utah still has some pretty weird alcohol regulations. For instance:
1. Restaurants that can't obtain highly coveted "club liquor licenses," which are limited to one per 7,850 Utah residents, can still serve alcoholic beverages, but they have to be prepared behind "a solid, opaque or translucent permanent structural barrier" (a.k.a. a "Zion Curtain") and appear as if by magic. Bottles and bartenders must be hidden from the customer's view, which can really mess with interior design plans. In 2009 the legislature lifted the Zion Curtain requirement for businesses with club licenses but imposed it on businesses with restaurant licenses, which are nevertheless exempt from the rule if their bars were operating as of May 11, 2009.
2. Restaurants may serve alcoholic beverages only with food. If a customer comes in and declares that he just wants a beer, he must be shown the door.
3. Bars ("clubs") may not offer drink specials. If margaritas are $2 on Thursdays, they have to be $2 all week long. This is a new rule, introduced to keep bars under control after they no longer had to masquerade as private clubs.
4. Cocktail strength is strictly controlled:
Stiff drinks and doubles are illegal in Utah. Bars and restaurants must use meters on their liquor bottles to make sure they do not pour more than 1.5 ounces at a time. Other liquors can be added to cocktails in lesser amounts, not to exceed 2.5 ounces of liquor in a drink, as long as they are poured from bottles clearly marked "flavoring."

It is illegal to stiffen a drink with a second shot: under the law a drinker can order a vodka and tonic with a shot of whiskey on the side, but not a vodka tonic with a shot of vodka on the side.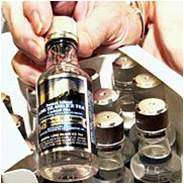 Assembling a Long Island Iced Tea would seem to require collusion by at least two different customers. In South Carolina, which for decades (until 2004) mandated that cocktails be made with liquor from 50-milliliter containers, distributors used to sell bars mini-bottles containing premixed Long Island Iced Tea liquors (vodka, tequila, rum, gin, and triple sec). South Carolina's rule, like Utah's, was aimed at limiting cocktail strength, but it had the opposite effect, since 50 milliliters (all of which had to be poured into a drink) is about 1.7 ounces, while a typical shot nowadays is 1.5 ounces or less.
The Utah Department of Alcoholic Beverage Control explains the partition rules for holders of "limited restaurant liquor licenses" (who may serve "wine, heavy beer, and beer" but not "distilled spirits and flavored malt beverages") and "restaurant liquor licenses" (who may serve "all types of alcoholic beverages"). In 2009 I noted the change in Utah's liquor laws, and a bartender explained the old system to Reason.tv: