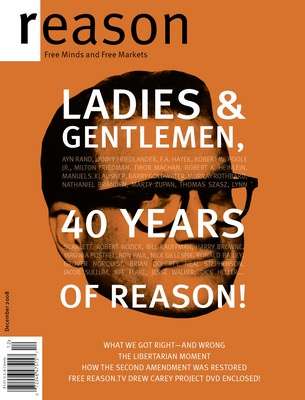 Writing in the Charlottesville Examiner Libertarian, Richard Sincere interviews Nick Gillespie and Matt Welch about the making of The Declaration of Independents: How Libertarian Politics Can Fix What's Wrong with America. Excerpt:
"It was a combination of looking at how good things were getting in certain aspects of our lives and how awful they were getting in others," Gillespie said, "and then trying to figure out how could [non-political] things be getting better and better and how could politics be getting worse and worse."

Welch added that "unraveling this paradox," as he put it, "dovetailed" with a project to celebrate the 40th anniversary of Reason magazine.

"As that happened, the financial crisis hit, and TARP, and the freak-out" that followed, he said.

In that anniversary issue, scheduled for December 2008, Welch continued, "we were going to herald the 'libertarian moment' [when], suddenly, we have to say, 'OK, so it's a libertarian moment when all indicators are the opposite?' In fact, that forced us to go back and reread our history. This informed the book and actually set up some of the timelines of it."

'Darkest of all dark nights'

Welch suggested that "you could make an argument that in 1971 it was the darkest of all dark nights of the American soul—with wage and price controls and a crook in the White House and" the Vietnam War still raging.

Gillespie interjected: "And the Silent Majority taking over, George Wallace being a serious player."

Continuing, Welch explained:

"And yet, at the time, if you looked around or you knew where to look, there were actual green shoots happening, like the seeds of revolution, the seeds of great beneficial change were happening in real time right at that moment. So we thought, let's double down on our bet, that despite this moment, which seems so awful, there's going to be evidence of a flowering."
More, including some discussion of the notorious Koch brothers, here. Read the 2008 "Libertarian Moment" piece here, then wash it down with the magazine excerpt from The Declaration of Independents.