Federal Caterer Crackdown Grabs Pre-Cut Carrots from Tiny Children's Hands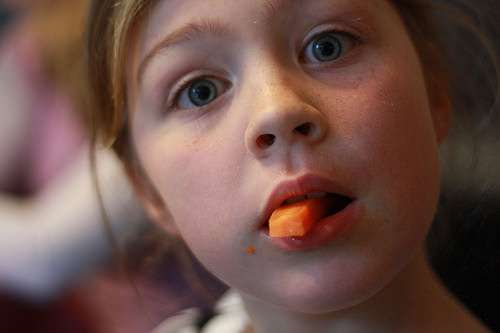 The federal government has finally taken action against the menace of pre-cut carrots in bagged lunches. The Washington Examiner reports:
Good Food [which sells freshly prepared breakfast, lunch and snacks to Washington-area day care centers and schools] was founded in 1979, and in its 30-plus years of existence, the USDA has never subjected the firm to inspection. Then Obama was elected.

This year, the Food Safety and Inspection Service, the USDA's enforcement arm, notified Good Food that it was in violation of FMIA. Despite zero evidence of any actual harm to consumers, the USDA determined that because Good Food delivered its food to day care centers and schools, instead of directly serving it to individual customers, it did not qualify for the caterer exemption.

According to FSIS documents, the agency believes that "the nature of the catering business has changed" and it has "concerns" that caterers are "losing control of how the food is being handled."

So FSIS conducted a sting operation of 54 caterers nationwide. The stunning finding? "No food safety violation observed."

Despite no evidence of any food safety violations, or any actual harm to consumers, FSIS gave Good Food and 17 other caterers a "Notice of Warning," meaning they had "180 days to modify their business model and comply with FSIS rules and regulations."
Prospering food businesses put out of commission by regulators despite a lack of evidence that anyone is being harmed with no way for people who want to comply with the law to make good. Sound familiar?