ObamaCare Continues to Make Consultants Richer
Here's what the public thinks of ObamaCare (via Pollster.com):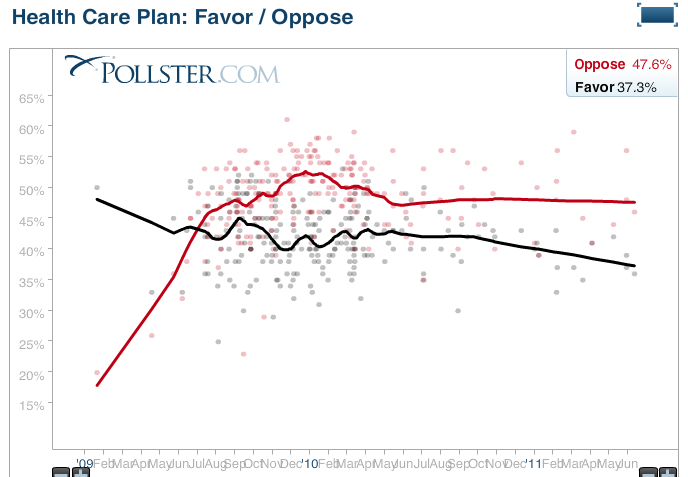 See that blue line? It's not going up. No, despite promise after promise that public opinion is just about to turn on the president's health care overhaul, the opposite appears to be true. Individual polls obviously vary, but the overall trend since last fall is clear: Fewer and fewer people favor the law, while outright opposition continues to hold steady.
The law's backers have long argued that the law would become popular just as soon as the public started to see its benefits. But more than a year after its passage, they're still struggling to convincingly explain just what those benefits are.
There is, however, one class of people to whom they probably don't have to explain anything. It's one of the few classes that's already doing quite well off of the law's existence: health policy consultants and lawyers—especially those advising state governments on how exactly to implement the law. Via Sarah Kliff at Politico:
More than $300 million in exchange grants has already flowed into the states since the Affordable Care Act passed. That number will grow exponentially in the coming months, as states move from the initial steps of passing exchange legislation to the more lucrative task of setting them up.

For health consultants and information technology vendors, it's already shaping up to be a gold mine.

State health exchange planning documents obtained by POLITICO read like a who's who of top health consulting firms, with contracts awarded to health vendors large and small. Between Indiana and Washington state — two of the three states that have received grants to establish exchanges so far — Deloitte Consulting, Mathematica Policy Research, Wakely Consulting Group and Milliman all have received exchange-related federal dollars.
Thanks to the law's regulations, in other words, outside advisers are raking in public cash and contracts. Democrats passed it. Now consultants are swooping in to find out what's in it—and on the taxpayer dime.
Nor are the exchanges the only part of the law that's turned out to be lucrative for the consultant class. In April, The Washington Post reported that ObamaCare's new rules for accountable care organization were proving to be a boon for "lawyers, lobbyists, and consultants," with some outfits charging health providers $25,000 for day-long consulting sessions and as much as a million dollars for full-fledged strategic implementation.
Given that state governments and health care providers—the professionals who ought to be most knowledgable about the law—are spending big bucks on outside experts who claim to be able to explain how the law works, maybe it isn't a surprise that ObamaCare's supporters still haven't figured out how to sell the law's benefits to the public. Meanwhile, the nation's consultant class seems to have done a rather good job figuring out how to sell explanations of the law's complexities to the state-level bureaucrats and health care administrators stuck implementing the law's bevy of new rules and regulations.