Hillary Clinton, to Libya War Critics: "Whose side are you on?"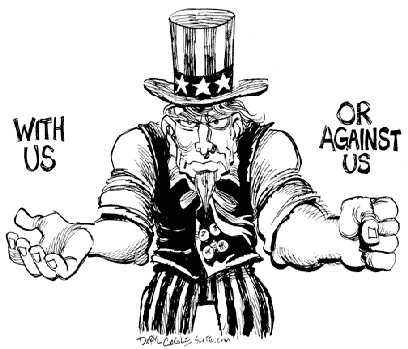 Are you with us, or with the dictator and the terrorism he supports? That's the White House formulation that infuriated liberals and Democrats from 2001-2008, and it's the formulation being used right now by the administration that liberals and Democrats elected to punish the previous gang. Here's Secretary State Hillary Clinton at a press conference in Jamaica:
QUESTION: […] We've entered a situation in Libya that looks increasingly quagmire-like. And it's starting to create a political headache for the Administration with Republican leaders arguing that the actions were inappropriate in the sense that they circumvented congressional approval for them. What is the – your vision for the endgame, a medium-term plan for U.S. involvement in Libya? And what do you make of House Speaker Boehner's remarks?

SECRETARY CLINTON: […] I have to take issue with your underlying premise. I think that there is very clear progress being made in the organization and the operational ability of the opposition, the Transitional National Council, the military efforts on the ground. I don't think there's any doubt in anyone's mind that Qadhafi and the people around him have their backs against the wall. The kind of support that we saw forthcoming for the Libyan opposition at the recent Libyan Contact Group meeting in Abu Dhabi was very heartening. Money is flowing, other support is available.

So I know we live in a hyper-information-centric world right now, and March seems like it's a decade ago, but by my calendar, it's only months. And in those months, we have seen an international coalition come together unprecedented between not only NATO, but Arab nations, the Arab League, and the United Nations. This is something that I don't think anyone could have predicted, but it is a very strong signal as to what the world expects to have happen, and I say with all respect that the Congress is certainly free to raise any questions or objections, and I'm sure I will hear that tomorrow when I testify.

But the bottom line is, whose side are you on? Are you on Qadhafi's side or are you on the side of the aspirations of the Libyan people and the international coalition that has been created to support them? For the Obama Administration, the answer to that question is very easy.
Bold type added.
Power is such a profoundly ugly thing. I sincerely hope every anti-war demonstrator-turned Obama voter gets Clinton's quote tattooed on their forehead.
Link via Hot Air's AllahPundit, who has related thoughts.