Toothless Congress Gripes About Lawless War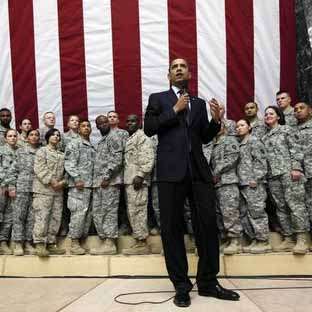 The House of Representatives has approved a non-binding resolution questioning President Obama's unilateral attack on Libya.
The vote was made in accordance with Article I, Section 8 of the U.S. Constitution, which allows Congress to give the president a good talking-to when he starts an illegal war. The Washington Times' Stephen Dinan reports:
The resolutions were non-binding, and only one of them passed, but taken together, roughly three-quarters of the House voted to put Mr. Obama on notice that he must explain himself or else face future consequences, possibly including having funds for the war cut off.

"He has a chance to get this right. If he doesn't, Congress will exercise its constitutional authority and make it right," said House Speaker John A. Boehner, the Ohio Republican who wrote the resolution that passed, 268-145, and sets a two-week deadline for the president to deliver the information the House is seeking.

Minutes after approving Mr. Boehner's measure, the House defeated an even more strongly-worded resolution offered by Rep. Dennis Kucinich, Ohio Democrat, that would have insisted the president begin a withdrawal of troops.

Most lawmakers said that was too rash at this point, and said they wanted to give Mr. Obama time to comply. Some also said immediate withdrawal would leave U.S. allies in the lurch.
Boehner's measure, which the White House calls "unnecessary and unhelpful," gives the president 14 days to provide a report explaining his failure to seek congressional approval. It also seeks some potentially interesting data on the status of Libya's civil war, the (non)performance of regional allies, and the role of international Islamists in the opposition.
Politico says the resolution has little chance of passing the Senate.