Gary Johnson Shut Out of First New Hampshire Debate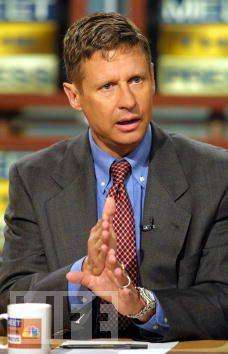 The first New Hampshire debate of the 2012 presidential race will take place later this month, and former two-term New Mexico Governor Gary Johnson is not invited. CNN, WMUR, and the Union Leader are hosting the debate. Here's the latter's writeup:
Minnesota Rep. Michele Bachmann, businessman Herman Cain, former House Speaker Newt Gingrich, Texas Rep. Ron Paul, former Minnesota Gov. Tim Pawlenty, former Massachusetts Gov. Mitt Romney and former Pennsylvania Sen. Rick Santorum will debate on June 13 in Sullivan Arena at St. Anselm College.

Invitations were extended to 13 prominent Republicans. In addition to the seven who have agreed to debate, Mitch Daniels, Rudy Giuliani, Mike Huckabee, Jon Huntsman, Sarah Palin and Donald Trump were on the list.

Palin, who appeared in New Hampshire yesterday as part of a campaign-style bus tour, told WMUR, "I don't think I'll be able to be there. Thanks for asking, though." Giuliani and Huntsman turned down their invitations. Daniels, Huckabee and Trump decided not to run.

CNN, WMUR and the New Hampshire Union Leader sent invitations to every Republican who was taking substantive steps towards a presidential run
and met any of the following polling standards:

> At least 2.00% support in at least three major national polls released in April.
> At least 2.00% support in at least three major national polls released in May.
> An average of at least 2.00% support in the two May polls of New Hampshire voters by the UNH Survey Center.
And here's the Johnson camp's press release responding to the news:
Republican presidential candidate and former New Mexico Governor Gary Johnson released the following statement today in reaction to not being invited to participate in the June 13 New Hampshire Republican presidential primary debate:

"I respect the right of CNN and the other sponsors of the June 13 New Hampshire Republican presidential primary debate to apply their own criteria and invite who they choose. It is, however, unfortunate that a significant segment of the Republican Party, and more importantly, millions of independent voters who might be Republican voters, will not have a voice on the stage in Manchester.

What will be missing is the voice of those who hold an undiluted view of individual liberty – those who believe that individual rights extend to women who face choices about abortion, Americans who happen to be gay, and those who don't place other asterisks on freedom.

Likewise, there will be no voice for the growing number of Americans who see the hypocrisy and failure of drug laws that condone alcohol at White House Dinners while incarcerating millions of Americans, including our kids, who choose to smoke pot.

I wish the participants in the debate well. And I sympathize with the millions of Americans whose beliefs will not be on display in Manchester on June 13.

I look forward to participating in the July 10 debate in Las Vegas, sponsored by Americans for Tax Reform and the Daily Caller."