New York Times Laments That Banks Operate in Their Own Self Interest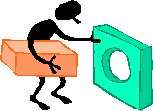 Tim Cavanaugh had a great post last night about the long real estate collapse, in which he concluded:
The best way to bring back the house-happy America of yore would be to let prices fall to market-clearing levels, without benefit of any HAMPS or TARPs, Fannies or Freddies. Now more than ever, this is a heretical notion.
To see how heretical this really is, look no further than this New York Times editorial Wednesday inaccurately headlined "As Housing Goes, So Goes the Economy":
The Great Recession began with the bursting of the housing bubble. Today, nearly two years after the recession officially ended, the housing market is still in trouble. […]

Even a recent drop in foreclosure filings isn't a reason for optimism. April was the seventh straight decline in monthly filings — which include notices of default, auction and bank repossessions — according to RealtyTrac, a real estate data provider. But the decline appears to be largely the result of banks slowing the foreclosure process in order to keep properties off the market until prices recover. The catch is that prices are unlikely to recover as long as millions of foreclosures are imminent.
Wait, so they're acknowledging that artificially delaying foreclosures through government action is postponing much-needed market clearance? Ha ha, yeah right:
Since the problems in housing are not self-curing, a government fix is in order. But the Obama administration's main antiforeclosure effort has fallen far short of its goal to modify three million to four million troubled loans.

Its basic flaw is that participation by the banks is voluntary. […]

That does not have to be the end of the story. In a recent hearing in a Senate banking subcommittee, witnesses proposed new laws and regulations to change loan-servicing standards in ways that would prevent banks from putting their interests above those of everyone else.

For starters, various government guidelines on loan servicing would be replaced with tough national standards. Among the new rules, homeowners would be evaluated for loan modifications before any foreclosure — or foreclosure-related fee — is initiated. The bank analysis used to approve or reject modifications would be standardized and public, and failure by the bank to offer a modification when the analysis indicates one is warranted would be grounds for blocking any attempt to foreclose.

National servicing standards could succeed where antiforeclosure programs have failed, namely, in compelling banks to help clean up the mess they did so much to create.
If only you could just eliminate banks, maybe you wouldn't have this problem!