Mitch McConnell Comes Out Against Rand Paul's Gun Amendment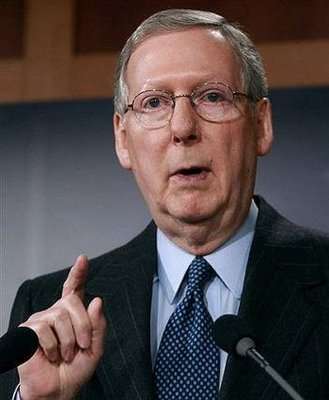 A senior GOP staffer tells me that Senate Minority Leader Mitch McConnell (R-Ky.) has come out against a PATRIOT Act amendment proposed by Senator Rand Paul (R-Ky.) that would rescind the ability of intelligence agencies to access the firearm records of American gun owners. According to the staffer, McConnell is also encouraging other GOP senators to oppose Paul's amendment.
The amendment, one of eight Paul authored, "clarifies that the authority to obtain info under the USA PATRIOT Act does not include authority to obtain certain firearm records."
The amendment has the support of Gun Owners of America, but few in the Senate.
Paul's office emailed reporters on Tuesday to say that the gun amendment was "causing problems and holding up further amendments and votes."
Campaign for Liberty is apparently hearing the same thing about McConnell. With Wyden's secret law amendment withdrawn, it appears McConnell and Reid are doing their best to eliminate obstacles to reauthorization before today's vote.
UPDATE: Paul is using his Facebook page to encourage supporters to call McConnell and Minority Whip Jon Kyl about the gun amendment.