L.A. Deficit $350 Million; Even Crossing Guards May Go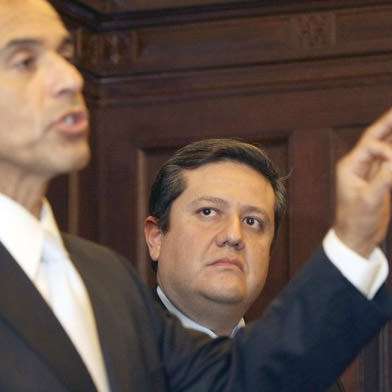 "Even the workers we have now we can't afford," Los Angeles Chief Administrative Officer Miguel Santana announced today, explaining why a city that has already eliminated 4,000 positions still faces a $350 million deficit.
Addressing the L.A. Chamber of Commerce, Santana – who has been described as the most powerful non-elected official in the troubled City of Angels – laid out a budget projection in which the deficit will grow by more than 50 percent over the next four years, from $350 million in the current budget to $548 million in 2014-15. (That's assuming a growth rate of around 1 percent in the city economy; if growth turns out to be flat or negative the deficit will be worse.)
Santana will be making his recommendations public on Monday, but I can already tell you which one will lead the headlines. The CAO says, "We need to continue reducing the workforce," and one of his proposals is to save the city $7 million by eliminating crossing guards.
That's not a bad idea. Santana notes that crossing guards are not assigned according to any recognized assessment of risk or need, but according to which district can get the most pull from its City Council member. I don't know that I've ever seen a crossing guard actually make any situation safer. You could eliminate the crossing guards, and the attached health care and pension costs, with no ill effects.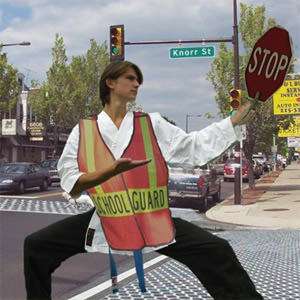 But what mayor out there is willing to go down in history as the genocidal monster who left Our Children without crossing guards? To his credit, Antonio Villaraigosa has generally backed up Santana since he was brought in two years ago to help the city government adapt to the New Normal. But I wouldn't bet a plugged nickel, let alone $7 million, on Antonio's courage.
And there are plenty of other radioactive materials in Santana's proposals, from a plan to hold off new police hiring for the rest of this year to a policy of contracting out more services – in a city where golf carts are considered a core mission of municipal government.
Interestingly, Santana ranks pension reform last among his four highest-priority items – because pension savings don't help the city's dire current finances. His first order of business is to make the city's reserve fund permanent ("because then we'll have to make the corresponding cuts"); the second is to reduce discretionary services and focus on core services; and third is to bring in more private contractors.
L.A.'s political class is about as dynamic and open to change as Syria's. Any attempt at reform – let alone one with this many specifics – will be facing serious headwinds. But these suggestions won't go away, because the deficit isn't going away.