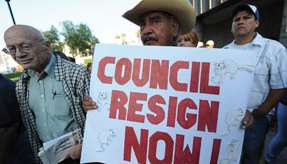 Remember when election results used to be clear so early that they would all be printed in the newspaper lying in your driveway the next morning?
These days even dinky city council elections are likely to wind up in lengthy endgames. Los Angeles City Councilman Bernard Parks has 50.89 percent in official results [pdf] from yesterday's primary, but he may yet be facing a runoff. Union-backed challenger Forescee Hogan-Rowles, believes her 43.99 percent showing demonstrates that she's "got Bernard Parks on the ropes." Hogan-Rowles – who received a cool $1.2 million in contributions from government employee unions after Parks promised to seek more layoffs in an effort to eliminate the city's $404 million deficit – says Parks' slim majority leaves her campaign "in a position to force a runoff."
In another squeaker from L.A.'s low-turnout election, Proposition O, a municipal measure that would have placed a tax of $1.44 on each barrel of oil extracted in the city, narrowly failed. L.A. voters were kinder to the other nine ballot measures, including the election's second big tax request: Proposition M, a $50-per-$1,000-gross-receipts tax on medical marijuana collectives. This steep tax hike passed with 59 percent of the vote.
The rest of the initiatives sought better disclosure from the county water and power authority, pension reform, a guarantee for library funding, and assorted good-government-type proposals. All passed.
While I disagree with several of these votes, I'll take the defeat of O as a rare gift from my tax-happy fellow Angelenos. Proposition M, which seeks to impose an income tax on non-profit entities, is legally dubious. It will be interesting to see how it plays out in court. But at least medical pot is a booming industry that, unlike local oil production, won't be driven to extinction by the tax.
The biggest human interest story was the city of Bell's recall election. In Bell, which became a global phenomenon after the Los Angeles Times reported on its million-dollar city manager, voters recalled the former mayor and all or most of the city council. The small Southeast-L.A. County town crystallized last year's consensus that government employees had become a threat not only to limited-government ideals but to the progressive ambitions that liberals hold dear. That consensus has since been challenged by public-sector-union counterattacks in Wisconsin and other states. The Bell vote is a bracing reminder: The government's ability to take the wealth of the citizens is conditional and built on trust. The people, not the government, have the power to renegotiate the social contract.
The editorial board of the L.A. Times, which still engages in the quaint fiction of institutional endorsements, fared pretty well this time around. Voters went for all but three of the Times' seven City Council recommendations and all but two of the paper's ten ballot initiative recommendations. I was surprised by the paper's endorsement of Bernard Parks. In 2007, when Parks ran against the union-friendly Mark Ridley-Thomas for County Supervisor, I was the only member of the ed board who supported him, and it took the intervention of then-publisher David Hiller to force the ed board to endorse Parks. Whether Eddie Hartenstein, the somnolent current publisher of the Times, intervened this time I don't know. It's certainly possible the ed board has figured out what the newsroom has known at least since the Bell scandal: You can be a good Democrat and still admit public sector unions are sucking us all dry.