The Trial Was a Pig-Circus, He Never Had a Chance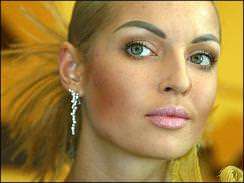 For defending jailed oil tycoon Mikhail Khodorkovsky and attacking Vladimir Putin's political party "United Russia," former Bolshoi ballerina Anastasia Volochkova claims that the Kremlin banned her from appearing on state television—a small problem in Russia, where the state controls almost all television channels. Volochkova's defense of Khodorkovsky, the subject of a much-discussed new documentary that recently premiered at the Berlin Film Festival, rankled Putin apparatchik and "chief ideologue" Vladislav Surkov, who will doubtless blow a gasket when he's sees this article in The Wall Street Journal. According to an assistant to the judge Khodorkovsky's case, her boss was only responding to government pressure when he meted out such a harsh sentence:
Natalya Vasilieva, an assistant to Judge Viktor Danilkin and press secretary of the Khamovnichesky Court, said in an interview broadcast Monday that the judge's original draft of the verdict was rejected and that he was ordered to read one written by senior officials at the Moscow City Court….

Ms. Vasilieva couldn't be reached for comment. Court officials said she was on vacation until next month. In the interview, Ms. Vasilieva said she expected "consequences," including losing her job, as a result of going public with her allegations. "We won't conduct any repressions against her," said Ms. Usacheva, the spokeswoman for the Moscow City Court, noting that any criminal investigation of Ms. Vasilieva for slander or surrounding her allegations would be a matter for prosecutors….

Ms. Vasilieva's claims support the widespread view that the latest trial of Mr. Khodorkovsky, once Russia's richest man and the former owner of oil giant OAO Yukos, was politically motivated. Kremlin officials have repeatedly denied those allegations. But courts in several countries in Europe have ruled in related cases that the prosecution of Mr. Khodorkovsky and the court-ordered breakup of Yukos appeared driven by the Kremlin's desire to scotch Mr. Khodorkovsky's political ambitions and nationalize his company.
The Guardian on the "unexpected hit" of the Berlin Film Festival.