Jane Harman We Knew Ye Too Well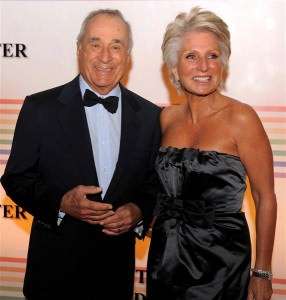 The pertinent question about Rep. Jane Harman (D-California)'s abrupt resignation is "Who cares as long as she's gone?" But the nine-term Venice blue dog's decision to become CEO of something called the "Woodrow Wilson International Center for Scholars" is both telling and strange.
Telling because Jane Harman combines the worst of centrist politics as fully as her husband Sidney recently combined the worst of new and old media by buying Newsweek for a dollar and merging it with the Daily Beast. Harman serves both sides of the welfare/warfare state through her seats on the Homeland Security and Energy & Commerce Committees. But for a rocky relationship with erstwhile House Speaker Nancy Pelosi, Harman might have taken the chair of Homeland Security during the Democratic ascendancy.
But proving that the enemy of Nancy Pelosi is not necessarily my friend, Harman's right-leaning bona fides are expressed entirely through daddy-state hawkishness. Occasionally that hawkishness dovetails with the Democratic Party wish list, as in this recent op-ed recommending both gun control and a redoubled war on terror in response to the Jared Loughner shootings:
Jared Lee Loughner…appears to have had no connection to the recent spate of Al Qaeda materials available on the Internet. But other alienated and mentally unstable kids do. Unless communities help law enforcement find would-be shooters or worse, the next rampage could be far more destructive.
Harman's appointment still has to be voted on, but she's born to head a think tank named for the progressive warmonger Woodrow Wilson.
Harman's resignation is also strange because, well, who would leave Congress to run a think tank? From Harman's letter to constituents:
I have always believed that the best solutions to tough problems require a bipartisan approach, and bipartisanship is the center's "brand." Serving at its helm provides unique opportunities to involve the House and Senate, top experts and world leaders in "great debates" about the most pressing foreign and domestic policy matters.
Extra points off for needless scare quotes. Politico quotes a "friend" of Harman's:
A Jane Harman friend said: "It's not that she wants to leave Congress. It's more about seeing the Woodrow Wilson Center as the preeminent place for seeking bipartisan solutions. It's a classy, well-funded operation. She just sees is as a great challenge and a great opportunity. She kept getting more and more excited about it."
Who cares as long as she's gone?
Things Can Always Get Worst Dept.: Announced and prospective candidates to replace Harman in a June special election include Los Angeles City Councilwoman Janice Hahn, the Gamal Mubarak of Los Angeles politics; Debra Bowen, California Secretary of State and three-time winner of the Diane Chambers lookalike contest; and progressive activist and twice-beaten Harman challenger Marcy Winograd, about whom I don't have a joke.