Licensed, Safe Mexican Truck Drivers to Invade U.S., Teamsters "Deeply Disappointed"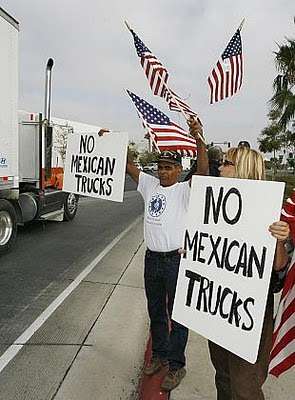 Since 2009, Mexican trucks hauling imports have been banned from U.S. roads, despite provisions in 1994's North American Free Trade Agreement which should have give both sides of the border access to each other's highways and byways. Mexico was understandably ticked at this development—widely viewed as a sop from Democrats to their union supporters—and expressed their sadness by imposing $2.4 billion in additional tariffs on U.S. goods imported to Mexico.
Finally, the Obama administration has made some headway, offering a new plan yesterday that would get Mexican drivers out on our streets, conditional on various safety inspections and permits. This move has won Obama approval from a unlikely corner: Democratic enemy and foreign-funded menace numero uno: The U.S. Chamber of Commerce.
"It's past time that we kept our word and complied with the promise we made to allow carefully inspected trucks to move across the border," Thomas J. Donohue, the president of the chamber, said in a statement.
Not everyone is happy, of course:
"I am deeply disappointed by this proposal," the [Teamsters] union's president, James P. Hoffa, said in a statement. "Why would the D.O.T. propose to threaten U.S. truck drivers' and warehouse workers' jobs when unemployment is so high? And why would we do it when drug cartel violence along the border is just getting worse?" Mr. Hoffa also raised safety concerns.
Talk of safety concerns is disingenuous. Nobody is talking about letting this dude loose in the streets of El Paso. This fight is about protectionism and domestic politics, not safer roads or drug violence. (In fact, the limited number of Mexican drivers who operated in the U.S. from 2007 to 2009—as part of a pilot program killed by the Obama administration—actually had better safety records than their American counterparts.) Forcing Mexican trucks to unload their cargo at the border and reload it into identical trucks that happen to driven by Americans is absurdly wasteful, and it's a practice that has gone on for far too long. Try not to get too weirded out by your bizarro world friends and enemies on this issue, Obama administration.
And never forget: Long haul truckers aren't the only Mexican large vehicle operators under attack. Tacos!