Postal Service in Germany to Deliver Mail…Electronically!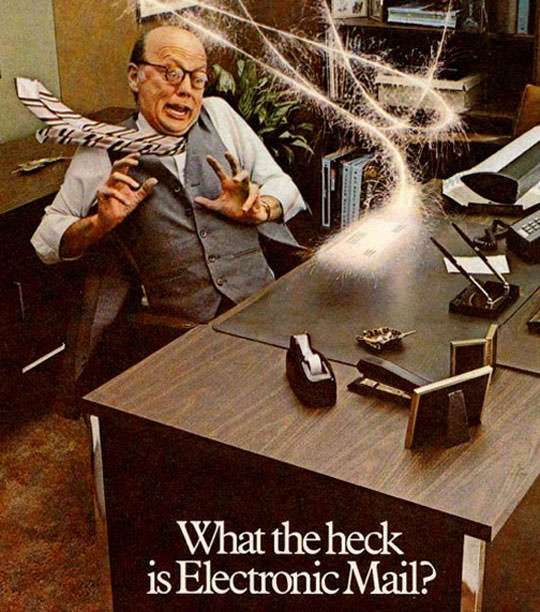 Wouldn't it be great if you could instantly send mail through a series of tubes? If there was some way to take an electronic version of a piece of mail and set it to arrive instantly in a virtual mailbox that was unique to your recipient? If only someone could figure out a way to send this…electronic mail.
Prayers answered! The postal carrier Deutsche Post has leapt boldly into the late 20th century, billing a new way for Germans to receive mail electronically, at the costs of a mere 75 cents per letter! What a bargain!
If the intended recipient doesn't have a special Deutsche Post mailbox, that fee—identical to the current cost of a snall mail stamp—covers the printing of the electronic mail and delivery in an envelope.
The big selling point is that these accounts will somehow be more secure than ordinary email—"equal to the security of paper mail":
"I believe, there are now many, many people, who say, 'I lock my house, I lock my car. I also want to be able to communicate securely,' " says the company's Mr. Gerdes.
I'm not an expert of security of digital communications, and I know that current email products have flaws: But the implication that sending an email from a Gmail or Yahoo! account is somehow equivalent to leaving your house unlocked is rather misleading, and the notion that a postal service will be able to provide security so much better than what Google offers that it would be worth paying 75 cents—and using a closed network—is laughable. The company boasts that they have invited hackers to find weaknesses in their system, but my understanding is that this is fairly common practice.
Of course, the security will also come from the fact that getting an account will be inconvenient:
To sign up, customers must visit a post office and present an official ID, one of the security features that are among the service's selling points.
As a friend (who is both a Jew and serial Hit&Run tipster) succinctly puts it: "This makes me less afraid of the Germans. They are clearly no longer a formidable enemy."