It Is Not Illegal To Record Cops in New Haven. But You Might Still Get Arrested, Charged, and Convicted for Doing So.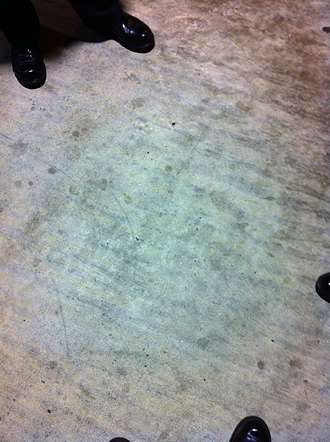 A few weeks ago, I wrote about a SWAT raid on New Haven nightclub. The raid was for suspected underage drinking. In addition to the obvious overkill show of force, police also threatened and allegedly arrested a Quinnipiac University student for attempting to record the raid with their cell phones (the police say the student was arrested for assaulting officers and disrupting the raid). This was a big story in New Haven, and it prompted a statement from both the mayor and the chief of police affirming that it is perfectly legal to record on-duty cops in New Haven.
At about the same time, another man was arrested in New Haven for recording the cops. On September 25, Luis Luna was arrested for filming an arrest outside of a New Haven bar with his cell phone. Officially, Luna was charged with interfering with police, but the police report itself specifically says that Luna was arrested for "filming", and makes no mention of him interfering with the arrest in any other way. (You can read the report here [PDF].)
The report also says that Luna's arrest was ordered not by a rank-and-file cop, but by Assistant Chief Ariel Melendez, as in the assistant chief of the New Haven Police Department. According to the New Haven Independent, when Luna got his phone back, the arrest video had been deleted. His phone did, however, include the photo at right, which looks to be an image mistakenly captured while the cops were fiddling with Luna's phone.
After the nightclub incidents made headlines, New Haven Police Chief Frank Limon assured the local media that he told his officers, "Assume you're being videotaped all the time when you're out there." And here's what New Haven Mayor John DeStefano said on October 4 in response to the nightclub raid:
This is America. Anyone can film anytime they want, including you, me and the PD while on duty. It is not my understanding that this is why the QU student was arrested.
Perhaps not. But it is why Luis Luna was arrested. And on October 8, four days after DeStefano unequivocally affirmed the legality of recording on-duty cops, Luna appeared in court to answer the charge. Here's what happened next:
"I approached the prosecutor and he said they would drop my charges and that I would have to pay a fine for creating a public disturbance," Luna said. Luna said he thought to himself that he shouldn't have to pay anything, that he hadn't done anything wrong. But the prosecutor told him he probably wouldn't qualify for a public defender, Luna said. He said when he asked where he might find a lawyer, he was referred to the yellow pages.

Without the time or money to fight the case, Luna decided to agree to the deal. He was charged with the lesser crime of creating a public disturbance.

When the judge asked if he was guilty, he said no, Luna recalled. "The judge explained I have to plead guilty," he said. "At that moment when I said I'm guilty, I felt like I was going against myself."
If, according to DeStefano, "[a]nyone can film anytime they want, including you, me and the PD while on duty," why was Luna arrested, charged, and convicted for doing precisely that?
If the law in New Haven is as clear as DeStefano makes it out to be, not only should Luna have never been arrested, but in ordering the arrest, Assistant Chief Melendez clearly violated Luna's civil rights—and he, of all people, should have known as much. New Haven State's Attorney Michael Dearington (or whatever subordinate handled the case) also should have known that carrying out the prosecution of Luna was also a violation of Luna's rights. Finally, the cop or cops who deleted the video on Luna's phone destroyed evidence, of both the arrest Luna was filming and of the illegal arrest of Luis Luna himself.
So who will be punished? Will the cops who deleted the video face criminal charges, as any citizen who destroys evidence of unlawful activity likely would? Will they be charged for destroying Melendez's property? Will Melendez be disciplined for ordering an arrest that was, very clearly, a violation of New Haven law and Luis Luna's civil rights?
Here's the thing: It's all well and good for Mayor DeStefano to state that it is perfectly legal for citizens to record on-duty cops in New Haven. But if New Haven police are permitted to arrest and jail—and if prosecutors are permitted to charge and convict—citizens for doing precisely that, it pretty clearly isn't legal, by any definition of the word.
It's also about damned time that cops who delete citizen-shot video that may incriminate them or their colleagues get the same punishment a citizen would get for doing the same thing. They can't play dumb with the "Gosh, if the videos aren't there, you must have never taken them" excuse this time. The police report clearly states that Luna was arrested for "taking pictures" and "filming". The bumbling cops then inadvertently provided photo evidence of their tampering with Luna's phone. Luna should take the phone in to see if the videos can be recovered, and if it can be discerned when they were deleted.
As it stands, the only person to suffer any consequences in Luna's case is Luna, the one party who, according to the mayor and chief of police, didn't do anything wrong.