State Charges Man $1,000 to Open Business in Dying City, Wins Praise
Today at CNN.com, there's a piece chronicling the awesome awesomeness of the stimulus, and the miracles hundreds of thousands of federal taxpayer dollars have brought to the semi-defunct manufacturing town of Kokomo, Indiana:
The mayor leveraged $800,000 in stimulus funds to help with a revitalization project that has netted 11 new stores since the start of the year.

For sure, Kokomo still faces big challenges. The fate of a huge manufacturing facility Delphi recently sold to General Motors—and its 1,200 workers—is uncertain. And the housing market is in the toilet.
Impressive, no?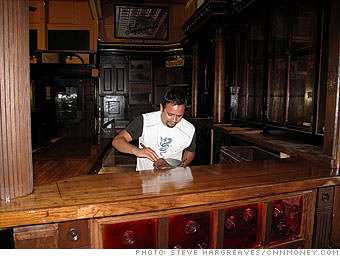 But over at Crispy on the Outside, Baylen Linnekin (after sharing some choice words about the quality of the analysis offered by the piece, one of which is "muckiness") highlights this doozy of a sidenote about one of those exciting new businesses:
26-year-old Blake Kinder is using recycled antique wood and glass to open up an Irish bar in what was once a Chinese restaurant.

Kinder said the city's designation of the downtown as a redevelopment zone allowed him to get a state liquor license, normally valued at over $100,000, for a mere $1,000.
Elsewhere on CNN.com, the new price is described as "dirt cheap." Here's a tip for would-be entrepreneurs in Indiana, or any other state. If you can buy three two-bedroom houses for the same cost as one liquor license in your town, you probably shouldn't buy any of the above. The state offering to accept a mere 1,000 clams in exchange for allowing someone to opening a business is a dying town shouldn't be so impressive.
Of course, Kokomo could benefit from some of the tips Reason had for Cleveland.