Ferries Boo, Slurs Stay Off
The Washington State Ferries—the aquatic arm of the State Department of Transportation—is refusing to stock the current edition of the Seattle Weekly, whose cover depicts Muhammed Sen. Patty Murray covered in pork: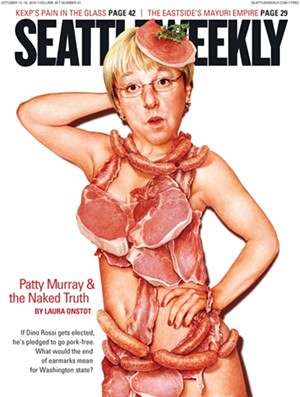 A spokesperson for the ferry system tells the Weekly the issue was pulled because "it was distasteful. We pulled one I think three years ago when it was a caricature of Sweeney Todd slashing Santa's throat during the holidays. We decided to pull it because we thought it was denigrating to women. It was not in keeping with what we want our customers to have to view. I thought it forwarded a disrespectful attitude toward a public figure." The spokeswoman also says that the ferries hadn't received any customer complaints about the issue, but "I don't want to have to receive a complaint about it."
Bonus links: Read the Weekly's actual article here. See the image the paper was spoofing here.