Meg Whitman Housekeeper Flakes On Allred Press Conference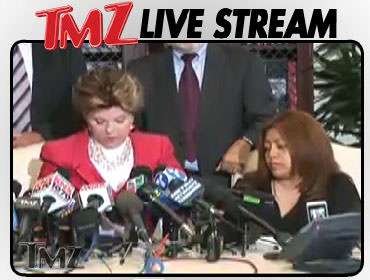 Nikki Diaz-Centillon (guessing on the spelling) Nicky Diaz Santillan just fled the live press conference at Gloria Allred's office, where she was supposed to denounce Meg Whitman as a mean boss who didn't pay her enough, wanted her to work hard, and didn't reimburse her mileage.
Update: Now she's back. Waterworks on.
Gist: Meg never asked about Nikki's Nicky's immigration status, rode Nikki like rented mule, fired Nikki Nicky when she asked (after Whitman had announced her intention to run for governor of California) that Whitman and her old man help her fix her immigration status.
Update: Allred has gone full zombie. She's talking monotonously about some "document we will show you" to support Nikki's Nicky's charges. "Six pages of facts or allegations." Questions from the room are skeptical.
An overcome Nikki Nicky doesn't seem to have finished making her statement, in which she said Whitman discarded her like "garbage" and didn't treat her like a "human being."
Update: "If Jerry Brown had an illegal housekeeper who came to you, would we be sitting here?"
Allred: "Not going to comment on hypotheticals."
Update: Not clear how this will play for Whitman, but it's a disaster for Allred. She has no responses on any specifics, and Nikki Nicky has totally gone silent and pouty.
Update: Allred catchphrase watch: "Meg Whitman engaged in a policy of don't ask don't tell [regarding Nikki's Nicky's immigration status]." "An inconvenient truth about Meg Whitman." "What did Meg Whitman know and when did she know it?"
Update: Done. Allred's got bupkes. Now starting the conference in Spanish. I'm sure the real bombshells will come in the Arabic version.