Coming to Reason.tv on Sept. 30: Fiscal House of Horrors—in 3D! Subscribe to Reason Now to Get Your Glasses!
On September 30, Reason.tv brings a terrifying new dimension to our award-winning video productions!
Just in time for the Halloween season comes our Fiscal House of Horror videos in thrilling, chilling, drink-spilling 3D!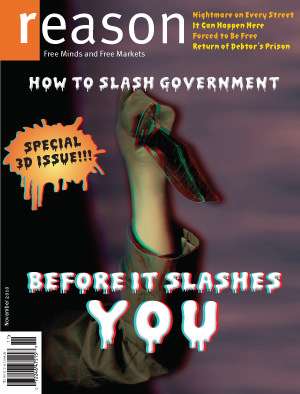 Our special videos on out-of-control federal spending, debt, and public-sector compensation will reach out from beyond the screen and warn you to fix your government before it's too late!
These videos are being released in conjunction with a special 3D edition of Reason magazine that comes complete with Reason.tv 3D glasses. Current subscribers will automatically receive the special 3D issue and glasses.
If you're not a subscriber, order a subscription online now and you'll be able to enjoy the print magazine of Reason and Reason.tv's 3D videos!
Go to https://reason.com/3D now to order the 3D magazine and the 3D glasses that will allow you to experience the full terror of your government at work!
Pregnant women, children, and fiscally responsible adults should consult an accountant before reading the magazine or watching the videos.